Information On The Film 15 Minutes
All about the movie 15 Minutes. Get information on the motion picture 15 Minutes including; genre, directors, producers, stars, supporting actors, ratings, studios and more at IconMovies.net.
15 Minutes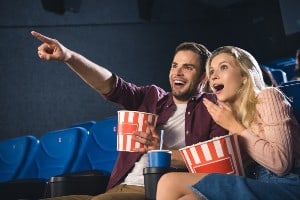 15 Minutes Film Information
What's The Movie 15 Minutes About?
When Eastern European criminals Oleg and Emil come to New York City to pick up their share of a heist score, Oleg steals a video camera and starts filming their activities, both legal and illegal. When they learn how the American media circus can make a remorseless killer look like the victim and make them rich, they target media-savvy NYPD Homicide Detective Eddie Flemming and media-naive FDNY Fire Marshal Jordy Warsaw, the cops investigating their murder and torching of their former criminal partner, filming everything to sell to the local tabloid TV show "Top Story."
America Likes to Watch
What's The Genre Of The 15 Minutes Movie?
Genres: Action, Crime, Thriller
Who Stars In The 15 Minutes Movie?
When Was The Motion Picture 15 Minutes Released?
What's The Runtime Of The 15 Minutes Movie?
How Popular Is The 15 Minutes Movie?
Popularity Rating: 12.150
What Studio(s) Produced The 15 Minutes Film?
Who Was On The Cast Of The Motion Picture 15 Minutes?
Who Was On The Crew Of 15 Minutes The Movie?
Art — Art Department Coordinator: Claire Kirk
Art — Art Direction: Jess Gonchor
Art — Assistant Art Director: David Crvelin
Art — Assistant Art Director: Joe Walser
Art — Construction Coordinator: Robert Bonino
Art — Construction Coordinator: Thomas Costabile
Art — Construction Foreman: Daniel Geary
Art — Construction Foreman: Daniel P. Gehry
Art — Construction Foreman: Mark Mann
Art — Construction Foreman: Sean O'Brien
Art — Leadman: Donald Grant
Art — Leadman: Gerald DeTitta
Art — Leadman: Mark Woods
Art — Location Scout: Michelle Latham
Art — Painter: Kim Kirschbaum
Art — Painter: Maureen Kropf
Art — Painter: Ralph Clark
Art — Production Design: Mayne Berke
Art — Set Decoration: Casey Hallenbeck
Art — Set Decoration: Chuck Potter
Art — Set Designer: John P. Bruce
Art — Set Designer: Stan Tropp
Art — Standby Painter: John J. Passanante
Camera — Camera Operator: Bob Gorelick
Camera — Camera Operator: Jim McConkey
Camera — Director of Photography: Hisham Abed
Camera — Director of Photography: Jean-Yves Escoffier
Camera — Director of Photography: Robert Poole
Camera — First Assistant Camera: Clyde E. Bryan
Camera — First Assistant Camera: Steve McLean
Camera — First Assistant Camera: Tim Metivier
Camera — Grip: Chad Herr
Camera — Grip: Christopher Donohue
Camera — Grip: Christopher L. Monroe
Camera — Grip: Dino R. Alba
Camera — Grip: Franz Yeich
Camera — Grip: Gregory F. Johnson
Camera — Grip: Jack Serino
Camera — Grip: Jorge H. Guzman
Camera — Grip: Ken Tanzer
Camera — Grip: Kurt Rimmel
Camera — Grip: Kurt Stevens
Camera — Grip: Lance Robinson
Camera — Grip: R. Dana Harlow
Camera — Grip: Robert M. Andres
Camera — Steadicam Operator: Jim McConkey
Camera — Still Photographer: Phillip V. Caruso
Costume & Make-Up — Assistant Costume Designer: Donna Berwick
Costume & Make-Up — Costume Design: April Ferry
Costume & Make-Up — Costume Supervisor: Hope Slepak
Costume & Make-Up — Key Hair Stylist: Lisa Meyers
Costume & Make-Up — Makeup Artist: Deborah K. Larsen
Costume & Make-Up — Makeup Artist: Deborah La Mia Denaver
Costume & Make-Up — Makeup Artist: Donna Cicatelli-Lewis
Costume & Make-Up — Makeup Artist: Ilona Herman
Costume & Make-Up — Makeup Artist: Joe Cuervo
Costume & Make-Up — Makeup Artist: John E. Jackson
Costume & Make-Up — Makeup Artist: Mark Bussan
Costume & Make-Up — Makeup Artist: Nicki Ledermann
Costume & Make-Up — Makeup Artist: Steve Artmont
Costume & Make-Up — Set Costumer: Chris Burrows
Costume & Make-Up — Set Costumer: Lee Harris
Costume & Make-Up — Set Dressing Artist: Don Cinderella
Costume & Make-Up — Set Dressing Artist: Jack Forwalter
Costume & Make-Up — Set Dressing Artist: Scott Garrett
Costume & Make-Up — Set Dressing Artist: Tim Caprarelli
Crew — Cableman: Dick Hansen
Crew — Craft Service: Caroline Kramer
Crew — Craft Service: Frank McKenna
Crew — Craft Service: Gary Kramer
Crew — Craft Service: Michael McKenna
Crew — Driver: Bonnie Yamahiro
Crew — Driver: Brian Kelly
Crew — Driver: Cecil McClain
Crew — Driver: Charles Ramirez
Crew — Driver: D. Scott Guthrie
Crew — Driver: Daniel Gordon
Crew — Driver: Danny Brooks
Crew — Driver: David Goodman
Crew — Driver: Edward Fanning
Crew — Driver: Ervin Wayne Spowehn
Crew — Driver: Eugene O'Neill
Crew — Driver: Fulton 'Greg' Gilson
Crew — Driver: Gary Compton
Crew — Driver: J. Armin Garza II
Crew — Driver: Jack J. Cavolo
Crew — Driver: James A. Murphy
Crew — Driver: James E. Bennett
Crew — Driver: Jeffrey M. Drucker
Crew — Driver: Jerry Smith
Crew — Driver: John Brady
Crew — Driver: John J. Hess
Crew — Driver: John M. Batiuk
Crew — Driver: Jon Tardino
Crew — Driver: Joseph F. Barth Jr.
Crew — Driver: Larry Hilmo
Crew — Driver: Larry Michael
Crew — Driver: Lawrence S. Hennessy
Crew — Driver: Malcolm Mazer
Crew — Driver: Mark Scruton
Crew — Driver: Michael Marotta
Crew — Driver: Mike Kulisch
Crew — Driver: Patric Cyran
Crew — Driver: Peter Connors
Crew — Driver: Randall D. Krasomil
Crew — Driver: Richard Tews
Crew — Driver: Rick Kelleher
Crew — Driver: Robert Dulys
Crew — Driver: Sam Cardarelli Jr.
Crew — Driver: Scott Ayres
Crew — Driver: Scott Fair
Crew — Driver: Sean Heilig
Crew — Driver: Stephen V. Pistone
Crew — Driver: Steve Januskiewicz
Crew — Driver: Steve Polon
Crew — Driver: Susan Larkins
Crew — Driver: Thomas Aquino
Crew — Driver: Thomas J. Horvath
Crew — Driver: Thomas M. Reposar
Crew — Driver: Vincent J. Gargiulo
Crew — Driver: William Wardlow
Crew — Loader: Matthew Haskins
Crew — Loader: Robin Bursey
Crew — Makeup Effects: Derek Becker
Crew — Post Production Assistant: Louis McGruder
Crew — Post Production Assistant: Sherry Snodgrass
Crew — Post Production Assistant: Stephen Przybylowski
Crew — Post Production Supervisor: Claire O'Brien
Crew — Post Production Supervisor: David Gaines
Crew — Production Controller: Paul Prokop
Crew — Production Intern: Lisa Lewis
Crew — Production Office Assistant: Bill Livingston
Crew — Property Master: David Gulick
Crew — Property Master: Mike Blaze
Crew — Property Master: Robert Griffon Jr.
Crew — Propmaker: Gerald Cheney
Crew — Propmaker: Jeff Plauster
Crew — Propmaker: Mark D. Berrend
Crew — Propmaker: R. Todd Hurst
Crew — Propmaker: Randal R. Groves
Crew — Propmaker: Richard Wheeler
Crew — Propmaker: Robert Simpson
Crew — Propmaker: Shel Yvon Rosenthal
Crew — Propmaker: Steven Rigamat
Crew — Propmaker: Tim J. Bonino
Crew — Propmaker: Tony Capasso
Crew — Propmaker: William G. Hoffner
Crew — Propmaker: William P. Bartram
Crew — Scenic Artist: Garf Brown
Crew — Second Unit Cinematographer: Michael Carmine
Crew — Set Medic: Chester Coleman
Crew — Set Medic: Kathy Cossu
Crew — Set Medic: Marie Nashold
Crew — Set Production Assistant: Brandon Schiffman
Crew — Set Production Assistant: Katherine Walker
Crew — Set Production Assistant: Marc Ameruso
Crew — Set Production Assistant: Rodney Barnes
Crew — Sound Recordist: Eddie Bydalek
Crew — Special Effects: Andrew Mortelliti
Crew — Special Effects: Danny Owen
Crew — Special Effects: David Kleinstein
Crew — Special Effects: Guy C. Feldman
Crew — Special Effects: John Stifanich
Crew — Special Effects: Kelly Kerby
Crew — Special Effects: Mark Bero
Crew — Special Effects: Ronald W. Mathews
Crew — Special Effects: Russell Berg
Crew — Special Effects: Steve Shines
Crew — Special Effects Coordinator: Frank Toro
Crew — Stand In: John Polce
Crew — Stand In: Marc Kenneth Robinson
Crew — Stand In: Melissa Steach
Crew — Stand In: Steve Carnahan
Crew — Stand In: Steve Nuke
Crew — Stunt Coordinator: Charlie Picerni
Crew — Stunts: Bob Arnold
Crew — Stunts: Buddy Joe Hooker
Crew — Stunts: Charles Guardino
Crew — Stunts: Chris Cenatiempo
Crew — Stunts: Chuck Zito
Crew — Stunts: Cindy Daniels
Crew — Stunts: Dane Farwell
Crew — Stunts: Dar Billingham
Crew — Stunts: David Lea
Crew — Stunts: Debbie Evans
Crew — Stunts: Felipe Savahge
Crew — Stunts: Frank Ferrara
Crew — Stunts: Frank Ferrara Jr.
Crew — Stunts: Frankie 'G' Garbutt
Crew — Stunts: George F. Miller
Crew — Stunts: Jack Carpenter
Crew — Stunts: James M. Halty
Crew — Stunts: Janet Paparazzo
Crew — Stunts: Jennifer Badger
Crew — Stunts: Jim Palmer
Crew — Stunts: Jimmy P. Wong
Crew — Stunts: John Cenatiempo
Crew — Stunts: John Sakas
Crew — Stunts: Kevin Beard
Crew — Stunts: Marian Green
Crew — Stunts: Melissa Brasselle
Crew — Stunts: Michael Broughton
Crew — Stunts: Michael Russo
Crew — Stunts: Mike Massa
Crew — Stunts: Nancy Young
Crew — Stunts: Ousaun Elam
Crew — Stunts: Paula Leone
Crew — Stunts: Pete Antico
Crew — Stunts: Peter Bucossi
Crew — Stunts: Ralph Ferrara
Crew — Stunts: Sophia Crawford
Crew — Stunts: Steve M. Davison
Crew — Stunts: Steve Mack
Crew — Stunts: Steve Picerni
Crew — Stunts: Tom Bergman
Crew — Stunts: Tony Guida
Crew — Stunts: Tracy Keehn-Dashnaw
Crew — Stunts: Victor Paul
Crew — Thanks: Eric Bogosian
Crew — Thanks: Graham Knuttel
Crew — Thanks: Hugh Charlton
Crew — Thanks: Kim O'Keefe
Crew — Thanks: Laurie Dhue
Crew — Thanks: Mark Van Horne
Crew — Thanks: Melanie Stensland
Crew — Thanks: Pamela Byrne
Crew — Thanks: Peter Max
Crew — Thanks: Robert Earl
Crew — Thanks: Roseanne Barr
Crew — Thanks: Susan Grossman
Crew — Thanks: Thomas Van Essen
Crew — Title Graphics: Dan Perri
Crew — Title Graphics: Peter Koczera
Crew — Transportation Captain: Michael Helgesen
Crew — Transportation Captain: Tom Heilig
Crew — Transportation Captain: Walter McClain
Crew — Transportation Co-Captain: Dennis Kelly
Crew — Transportation Co-Captain: Mel Langford
Crew — Transportation Co-Captain: Vic Nowak
Crew — Transportation Coordinator: Bo Ehrig
Crew — Transportation Coordinator: Timothy Shannon
Crew — Unit Publicist: Jeanmarie Murphy-Burke
Crew — Video Assist Operator: David Schmalz
Crew — Video Assist Operator: Joel Holland
Crew — Video Assist Operator: Michael J. Hogan
Crew — Visual Effects Editor: Fred Toye
Directing — Assistant Director: Albert Cho
Directing — Assistant Director: James M. Freitag
Directing — Assistant Director: Stacey Beneville
Directing — Director: John Herzfeld
Directing — Script Supervisor: Chiemi Karasawa
Directing — Script Supervisor: Mikayla Abromowitz
Directing — Script Supervisor: Trudy Ramirez
Editing — Color Timer: Jim Williams
Editing — Color Timer: Mato
Editing — Editor: Steven Cohen
Editing — First Assistant Editor: Devon Miller
Editing — First Assistant Editor: Quincy Z. Gunderson
Lighting — Best Boy Electric: Michael 'Flash' McDonald
Lighting — Best Boy Electric: Thomas M. Dangcil
Lighting — Electrician: Ashley Kimmet
Lighting — Electrician: Charles Meere III
Lighting — Electrician: Chris Culliton
Lighting — Electrician: Dave W. Slodski
Lighting — Electrician: Donald M. Angst
Lighting — Electrician: Francesca Cobaco
Lighting — Electrician: Gordon Tadd Eto
Lighting — Electrician: Harold J. McClean
Lighting — Electrician: Jon Delgado
Lighting — Electrician: Michael J. Maurer
Lighting — Electrician: Nicole Brait
Lighting — Electrician: Scott Barnes
Lighting — Electrician: Thomas Landi
Lighting — Lighting Technician: Chris Drechsler
Lighting — Lighting Technician: Mark Schwentner
Lighting — Lighting Technician: Michael Bauman
Lighting — Rigging Gaffer: Kevin Brown
Lighting — Rigging Gaffer: Robert Dolan
Lighting — Rigging Grip: Adam Colunga
Lighting — Rigging Grip: Al Lieberman
Lighting — Rigging Grip: Craig Vaccaro
Lighting — Rigging Grip: Dennis Skog
Lighting — Rigging Grip: Hilary Klym
Lighting — Rigging Grip: Jeremiah Spinney
Lighting — Rigging Grip: Rex Anson Rhorer
Production — Associate Producer: David Gaines
Production — Associate Producer: James M. Freitag
Production — Casting: Gail Stevens
Production — Casting: Mindy Marin
Production — Executive In Charge Of Post Production: Jody Levin
Production — Executive In Charge Of Production: Carla Fry
Production — Executive Producer: Claire Rudnick Polstein
Production — Location Manager: Andrew Saxe
Production — Location Manager: Antoine Douaihy
Production — Location Manager: Lauri Pitkus
Production — Location Manager: Steve Dayan
Production — Producer: David Blocker
Production — Producer: John Herzfeld
Production — Producer: Keith Addis
Production — Producer: Nick Wechsler
Production — Production Accountant: Mark J. Levenstein
Production — Production Coordinator: Betty Chin
Production — Production Coordinator: Diana E. Latham
Production — Production Coordinator: Mohamed Khan
Production — Production Coordinator: Wendy Cox
Production — Production Manager: Elizabeth Hirsch
Production — Production Supervisor: Mark J. Levenstein
Production — Production Supervisor: Sandra Tomita
Production — Unit Production Manager: Amy Herman
Production — Unit Production Manager: Kim Kurumada
Production — Unit Production Manager: Lucille Smith
Sound — Boom Operator: Marc-Jon Sullivan
Sound — Boom Operator: Mychal Smith
Sound — Foley: Alyson Dee Moore
Sound — Foley: John Roesch
Sound — Music Editor: Mark Jan Wlodarkiewicz
Sound — Music Editor: Zigmund Gron
Sound — Orchestrator: Anthony Marinelli
Sound — Orchestrator: J. Peter Robinson
Sound — Orchestrator: Jon Kull
Sound — Orchestrator: Nicholas Dodd
Sound — Original Music Composer: Anthony Marinelli
Sound — Original Music Composer: J. Peter Robinson
Sound — Scoring Mixer: Mark Curry
Sound — Scoring Mixer: Robert Fernandez
Sound — Sound: Kendall Marsh
Sound — Sound Designer: Leslie Shatz
Sound — Sound Mixer: Gary Alper
Sound — Sound Mixer: Kim H. Ornitz
Sound — Sound Re-Recording Mixer: Leslie Shatz
Sound — Sound Re-Recording Mixer: Rick Ash
Visual Effects — Special Effects Supervisor: Paul J. Lombardi
Visual Effects — Visual Effects: Derek Ledbetter
Visual Effects — Visual Effects Coordinator: Abby Gail Palanker
Visual Effects — Visual Effects Producer: Kimberly Sylvester
Visual Effects — Visual Effects Supervisor: Richard Malzahn
Writing — Storyboard: David E. Duncan
Writing — Writer: John Herzfeld