Information On The Film 300
All about the movie 300. Get information on the motion picture 300 including; genre, directors, producers, stars, supporting actors, ratings, studios and more at IconMovies.net.
300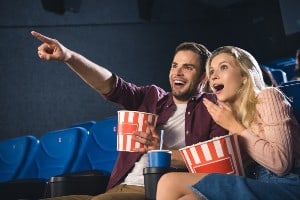 300 Film Information
What's The Movie 300 About?
Based on Frank Miller's graphic novel, "300" is very loosely based the 480 B.C. Battle of Thermopylae, where the King of Sparta led his army against the advancing Persians; the battle is said to have inspired all of Greece to band together against the Persians, and helped usher in the world's first democracy.
Spartans, prepare for glory!
What's The Collection The 300 Movie Belongs to?
What's The Genre Of The 300 Movie?
Genres: Action, Adventure, War
Who Stars In The 300 Movie?
When Was The Motion Picture 300 Released?
Released: December 9, 2006
What's The Runtime Of The 300 Movie?
How Popular Is The 300 Movie?
Popularity Rating: 18.108
What Studio(s) Produced The 300 Film?
Who Was On The Cast Of The Motion Picture 300?
Who Was On The Crew Of 300 The Movie?
Art — Art Department Coordinator: Charlotte Raybourn
Art — Art Department Coordinator: Helene Lamarre
Art — Art Direction: Jean-Pierre Paquet
Art — Art Direction: Nicolas Lepage
Art — Greensman: Martin Laneuville
Art — Production Design: James D. Bissell
Art — Sculptor: Hiroshi Yada
Art — Sculptor: Keith Christensen
Art — Sculptor: Lucie Fournier
Art — Sculptor: Marc Chow
Art — Set Decoration: Paul Hotte
Art — Set Decoration: Philippe Lord
Art — Set Designer: Alex Touikan
Art — Set Designer: Brent Lambert
Art — Set Designer: Frederic Amblard
Art — Set Designer: Vincent Gingras-Liberali
Art — Supervising Art Director: Isabelle Guay
Camera — Camera Operator: Daniel Sauve
Camera — Camera Operator: Francois Daignault
Camera — Director of Photography: Larry Fong
Camera — Steadicam Operator: Daniel Sauve
Camera — Still Photographer: Takashi Seida
Costume & Make-Up — Costume Design: Michael Wilkinson
Costume & Make-Up — Costume Supervisor: Lyse Pomerleau
Costume & Make-Up — Makeup Department Head: Scott Wheeler
Crew — Choreographer: Nadine Thouin
Crew — Graphic Novel Illustrator: Frank Miller
Crew — Property Master: Denis Hamel
Crew — Property Master: Simon Chamberland
Crew — Special Effects Coordinator: Stephen Gilbert
Crew — Studio Teachers: Jerie McBride
Crew — Stunt Coordinator: Stephane Lefebvre
Crew — Transportation Coordinator: Collin Butrum
Crew — Transportation Coordinator: Daniel Matthews
Crew — Visual Effects Editor: George McCarthy
Directing — Director: Zack Snyder
Editing — Dialogue Editor: Frederick H. Stahly
Editing — Dialogue Editor: Miguel Rivera
Editing — Editor: William Hoy
Lighting — Gaffer: John Lewin
Production — Casting: Andrea Kenyon
Production — Casting: Carrie Hilton
Production — Casting: Kristy Carlson
Production — Casting: Tamara Notcutt
Production — Executive Producer: Ben Waisbren
Production — Executive Producer: Craig J. Flores
Production — Executive Producer: Deborah Snyder
Production — Executive Producer: Frank Miller
Production — Executive Producer: Scott Mednick
Production — Executive Producer: Thomas Tull
Production — Executive Producer: William Fay
Production — Location Manager: Pierre Blondin
Production — Producer: Bernie Goldmann
Production — Producer: Gianni Nunnari
Production — Producer: Jeffrey Silver
Sound — Foley: Gary A. Hecker
Sound — Foley: Michael J. Broomberg
Sound — Music Editor: Darrell Hall
Sound — Original Music Composer: Tyler Bates
Sound — Sound Designer: Derek Vanderhorst
Sound — Sound Effects Editor: Derek Vanderhorst
Sound — Supervising Sound Editor: Scott Hecker
Visual Effects — Visual Effects: Hugo Dominguez
Visual Effects — Visual Effects Producer: Andy Fowler
Visual Effects — Visual Effects Producer: Chad Malbon
Visual Effects — Visual Effects Producer: Daniel Leduc
Visual Effects — Visual Effects Producer: Gayle Busby
Visual Effects — Visual Effects Producer: Ismat Zaidi
Visual Effects — Visual Effects Producer: Mandy Tankenson
Visual Effects — Visual Effects Producer: Michael Meagher
Visual Effects — Visual Effects Producer: Nina Fallon
Visual Effects — Visual Effects Producer: Persis Reynolds
Visual Effects — Visual Effects Producer: Thomas Nittmann
Visual Effects — Visual Effects Supervisor: Chris Watts
Visual Effects — Visual Effects Supervisor: Colin Strause
Visual Effects — Visual Effects Supervisor: Edson Williams
Visual Effects — Visual Effects Supervisor: Greg Strause
Visual Effects — Visual Effects Supervisor: Jeremy Hunt
Visual Effects — Visual Effects Supervisor: Kirsty Millar
Visual Effects — Visual Effects Supervisor: Ray McIntyre Jr.
Visual Effects — Visual Effects Supervisor: Richard Martin
Visual Effects — Visual Effects Supervisor: Thierry Delattre
Writing — Author: Frank Miller
Writing — Novel: Lynn Varley
Writing — Screenplay: Kurt Johnstad
Writing — Screenplay: Michael B. Gordon
Writing — Screenplay: Zack Snyder