Information On The Film 8MM
All about the movie 8MM. Get information on the motion picture 8MM including; genre, directors, producers, stars, supporting actors, ratings, studios and more at IconMovies.net.
8MM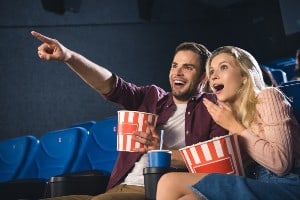 8MM Film Information
What's The Movie 8MM About?
A small, seemingly innocuous plastic reel of film leads surveillance specialist Tom Welles down an increasingly dark and frightening path. With the help of the streetwise Max, he relentlessly follows a bizarre trail of evidence to determine the fate of a complete stranger. As his work turns into obsession, he drifts farther and farther away from his wife, family and simple life as a small-town PI.
You can't prepare for where the truth will take you.
What's The Collection The 8MM Movie Belongs to?
What's The Genre Of The 8MM Movie?
Genres: Crime, Mystery, Thriller
Who Stars In The 8MM Movie?
When Was The Motion Picture 8MM Released?
Released: February 26, 1999
What's The Runtime Of The 8MM Movie?
How Popular Is The 8MM Movie?
What Studio(s) Produced The 8MM Film?
Who Was On The Cast Of The Motion Picture 8MM?
Who Was On The Crew Of 8MM The Movie?
Art — Art Department Assistant: Sarah Bullion
Art — Art Department Coordinator: Tambre Hemstreet
Art — Art Direction: Gershon Ginsburg
Art — Assistant Art Director: Jason Weil
Art — Construction Coordinator: Ron Petagna
Art — Leadman: Philip Canfield
Art — Production Design: Gary Wissner
Art — Property Master: Thomas Saccio
Art — Set Decoration: Gary Fettis
Art — Set Designer: Colin De Rouin
Camera — Director of Photography: Robert Elswit
Camera — First Assistant Camera: Angelo Di Giacomo
Camera — Grip: Nick Beaird
Camera — Key Grip: Ben Beaird
Camera — Steadicam Operator: Rick Raphael
Camera — Still Photographer: Michael Ginsburg
Costume & Make-Up — Costume Design: Mona May
Costume & Make-Up — Costume Illustrator: Felipe Sanchez
Costume & Make-Up — Costume Supervisor: Ira M. Hammons-Glass
Costume & Make-Up — Hairstylist: Joseph Coscia
Costume & Make-Up — Key Set Costumer: Alan Martin
Costume & Make-Up — Makeup Artist: Linda Grimes
Costume & Make-Up — Set Costumer: Kevin Ritter
Costume & Make-Up — Set Dressing Artist: Mychael Bates
Crew — Additional Music: Younes Megri
Crew — Craft Service: Nancy Mott
Crew — Driver: Gina August
Crew — Propmaker: Walter Zieska
Crew — Second Unit Cinematographer: Eli Richbourg
Crew — Special Effects Coordinator: Al Griswold
Crew — Stand In: Marco Kyris
Crew — Stunt Coordinator: Eddie Yansick
Crew — Stunts: Bill Anagnos
Crew — Transportation Co-Captain: David Severin
Crew — Transportation Coordinator: John Orlebeck
Directing — Director: Joel Schumacher
Directing — First Assistant Director: Alan Edmisten
Directing — Script Coordinator: Mads Hansen
Editing — Color Timer: Gloria Kaiser
Editing — Dialogue Editor: Mildred Iatrou
Editing — Editor: Mark Stevens
Lighting — Best Boy Electric: Glen Davis
Lighting — Electrician: James Barrett
Lighting — Gaffer: Jim Plannette
Lighting — Lighting Technician: Billy Craft
Lighting — Rigging Gaffer: Rick A. Benedetto
Lighting — Rigging Grip: Brad Heiner
Production — Casting: Mali Finn
Production — Casting Associate: Terrence Harris
Production — Co-Producer: Jeff Levine
Production — Executive In Charge Of Post Production: Daniel R. Chavez
Production — Executive Producer: Joseph M. Caracciolo
Production — Location Manager: Michael J. Burmeister
Production — Producer: Gavin Polone
Production — Producer: Joel Schumacher
Production — Producer: Judy Hofflund
Production — Production Accountant: Elizabeth Tompkins
Production — Production Coordinator: Susan Dukow
Production — Production Office Coordinator: Michael Boonstra
Production — Production Supervisor: David J. Grant
Production — Publicist: Michael Singer
Production — Unit Production Manager: Joseph M. Caracciolo
Sound — Assistant Sound Editor: Cherie Tamai
Sound — Boom Operator: Marvin E. Lewis
Sound — Foley: Nerses Gezalyan
Sound — Music Editor: Thomas Milano
Sound — Orchestrator: Nicholas Dodd
Sound — Original Music Composer: Mychael Danna
Sound — Sound: Willie D. Burton
Sound — Sound Editor: Anthony Milch
Sound — Sound Effects Editor: Joe Divitale
Sound — Sound Engineer: Carl D. Ware
Sound — Sound Mixer: Tom Nelson
Sound — Sound Recordist: Kim Maitland
Sound — Supervising Sound Editor: John Leveque
Visual Effects — Special Effects Supervisor: David Peterson
Writing — Screenplay: Andrew Kevin Walker