Information On The Film A Beautiful Mind
All about the movie A Beautiful Mind. Get information on the motion picture A Beautiful Mind including; genre, directors, producers, stars, supporting actors, ratings, studios and more at IconMovies.net.
A Beautiful Mind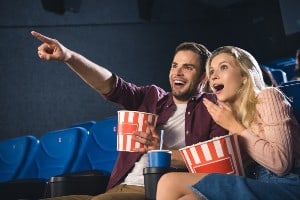 A Beautiful Mind Film Information
What's The Movie A Beautiful Mind About?
At Princeton University, John Nash struggles to make a worthwhile contribution to serve as his legacy to the world of mathematics. He finally makes a revolutionary breakthrough that will eventually earn him the Nobel Prize. After graduate school he turns to teaching, becoming romantically involved with his student Alicia. Meanwhile the government asks his help with breaking Soviet codes, which soon gets him involved in a terrifying conspiracy plot. Nash grows more and more paranoid until a discovery that turns his entire world upside down. Now it is only with Alicia's help that he will be able to recover his mental strength and regain his status as the great mathematician we know him as today..
I need to believe that something extra ordinary is possible...
What's The Genre Of The A Beautiful Mind Movie?
Who Stars In The A Beautiful Mind Movie?
When Was The Motion Picture A Beautiful Mind Released?
Released: December 11, 2001
What's The Runtime Of The A Beautiful Mind Movie?
How Popular Is The A Beautiful Mind Movie?
Popularity Rating: 11.936
What Studio(s) Produced The A Beautiful Mind Film?
Who Was On The Cast Of The Motion Picture A Beautiful Mind?
Who Was On The Crew Of A Beautiful Mind The Movie?
Art — Art Direction: Robert Guerra
Art — Assistant Art Director: Bradley Mayer
Art — Assistant Art Director: Nancy Winters
Art — Construction Coordinator: Martin Bernstein
Art — Leadman: Joseph Proscia
Art — Production Design: Wynn Thomas
Art — Set Decoration: Leslie E. Rollins
Camera — Camera Operator: Gerardo Puglia
Camera — Camera Operator: Kyle Rudolph
Camera — Director of Photography: Roger Deakins
Camera — Still Photographer: Eli Reed
Costume & Make-Up — Costume Design: Rita Ryack
Costume & Make-Up — Costume Supervisor: Kevin Draves
Costume & Make-Up — Costume Supervisor: William A. Campbell
Costume & Make-Up — Costume Supervisor: Winsome G. McKoy
Costume & Make-Up — Hairstylist: Colleen Callaghan
Costume & Make-Up — Makeup Artist: Todd Kleitsch
Crew — Dialect Coach: Judy Dickerson
Crew — Post Production Supervisor: Steve Castellano
Crew — Property Master: Tommy Allen
Crew — Sound Recordist: Bob Olari
Crew — Special Effects Coordinator: Wilfred Caban
Crew — Stunt Coordinator: Peter Bucossi
Crew — Unit Publicist: Julie Kuehndorf
Crew — Visual Effects Editor: Heather J. Morrison
Directing — Director: Ron Howard
Directing — Script Supervisor: Eva Z. Cabrera
Editing — Dialogue Editor: Louis Cerborino
Editing — Dialogue Editor: Marc Laub
Editing — Dialogue Editor: Stan Bochner
Editing — Editor: Daniel P. Hanley
Editing — Editor: Mike Hill
Lighting — Best Boy Electric: Joseph Grimaldi
Lighting — Gaffer: Bill O'Leary
Production — Casting: Jane Jenkins
Production — Casting: Janet Hirshenson
Production — Executive Producer: Aldric La'Auli Porter
Production — Executive Producer: Karen Kehela Sherwood
Production — Executive Producer: Louisa Velis
Production — Executive Producer: Todd Hallowell
Production — Location Manager: Lyn Pinezich
Production — Producer: Brian Grazer
Production — Producer: Kathleen McGill
Production — Producer: Maureen Peyrot
Production — Producer: Ron Howard
Sound — Foley: Ginger Geary
Sound — Foley: Nancy Cabrera
Sound — Music Editor: Jim Henrikson
Sound — Original Music Composer: James Horner
Sound — Sound Effects Editor: Daniel Pagan
Sound — Sound Effects Editor: Eytan Mirsky
Sound — Sound Effects Editor: Harry Peck Bolles
Sound — Sound Re-Recording Mixer: Chris Jenkins
Sound — Sound Re-Recording Mixer: Frank A. Montano
Sound — Supervising Sound Editor: Anthony J. Ciccolini III
Visual Effects — Visual Effects Producer: Kelly L'Estrange
Visual Effects — Visual Effects Supervisor: Kevin Scott Mack
Writing — Author: Sylvia Nasar
Writing — Screenplay: Akiva Goldsman
Writing — Screenplay: Sylvia Nasar