Information On The Film Annabelle
All about the movie Annabelle. Get information on the motion picture Annabelle including; genre, directors, producers, stars, supporting actors, ratings, studios and more at IconMovies.net.
Annabelle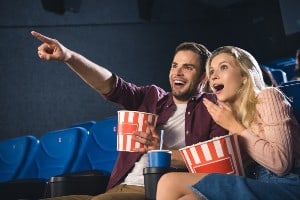 Annabelle Film Information
What's The Movie Annabelle About?
John Form has found the perfect gift for his expectant wife, Mia - a beautiful, rare vintage doll in a pure white wedding dress. But Mia's delight with Annabelle doesn't last long. On one horrific night, their home is invaded by members of a satanic cult, who violently attack the couple. Spilled blood and terror are not all they leave behind. The cultists have conjured an entity so malevolent that nothing they did will compare to the sinister conduit to the damned that is now... Annabelle.
Before the Conjuring, there was Annabelle.
What's The Collection The Annabelle Movie Belongs to?
What's The Genre Of The Annabelle Movie?
Who Stars In The Annabelle Movie?
When Was The Motion Picture Annabelle Released?
Released: October 2, 2014
What's The Runtime Of The Annabelle Movie?
How Popular Is The Annabelle Movie?
Popularity Rating: 23.242
What Studio(s) Produced The Annabelle Film?
Who Was On The Cast Of The Motion Picture Annabelle?
Who Was On The Crew Of Annabelle The Movie?
Art — Art Department Coordinator: Carolyn King
Art — Art Direction: Douglas Cumming
Art — Production Design: Bob Ziembicki
Art — Set Decoration: Lia Roldan
Camera — Director of Photography: James Kniest
Costume & Make-Up — Costume Design: Janet Ingram
Costume & Make-Up — Costume Supervisor: Michele Dunn
Costume & Make-Up — Hairstylist: Richard De Alba
Costume & Make-Up — Makeup Artist: Heide Kacser
Costume & Make-Up — Makeup Artist: Martina Kohl
Costume & Make-Up — Makeup Department Head: Eleanor Sabaduquia
Costume & Make-Up — Makeup Department Head: Liz Mendoza
Costume & Make-Up — Set Costumer: Anne Kemmeter
Costume & Make-Up — Set Costumer: Silvia Raiano
Crew — Makeup Effects: Cary Ayers
Crew — Sound Recordist: Samuel Ejnes
Crew — Studio Teachers: Geraldine Needle
Crew — Studio Teachers: Maxine Brooks
Crew — Stunt Coordinator: Alex Daniels
Crew — Stunts: Joseph Bishara
Crew — Transportation Coordinator: Michael Perrotti
Crew — Unit Publicist: James Ferrera
Directing — Director: John R. Leonetti
Directing — Script Supervisor: Sherie Giehtbrock
Editing — Dialogue Editor: Justin Dzuban
Editing — Digital Intermediate: Paul Lavoie
Editing — Editor: Tom Elkins
Lighting — Gaffer: Tim Marshall
Production — Casting: Jordan Bass
Production — Casting: Lauren Bass
Production — Co-Producer: Jenny Hinkey
Production — Executive Producer: Hans Ritter
Production — Location Manager: Kei Rowan-Young
Production — Location Manager: Murray Miller
Production — Producer: James Wan
Production — Producer: Peter Safran
Sound — Foley: John Sievert
Sound — Foley: Marilee Yorston
Sound — Music Editor: Julie Pearce
Sound — Original Music Composer: Joseph Bishara
Sound — Sound Designer: Joe Dzuban
Sound — Sound Designer: William R. Dean
Sound — Sound Re-Recording Mixer: James Bolt
Visual Effects — Visual Effects Producer: Tiffany Smith
Visual Effects — Visual Effects Supervisor: Arthur J. Codron
Writing — Writer: Gary Dauberman