Information On The Film Antz
All about the movie Antz. Get information on the motion picture Antz including; genre, directors, producers, stars, supporting actors, ratings, studios and more at IconMovies.net.
Antz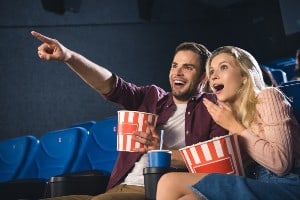 Antz Film Information
What's The Movie Antz About?
In this animated hit, a neurotic worker ant in love with a rebellious princess rises to unlikely stardom when he switches places with a soldier. Signing up to march in a parade, he ends up under the command of a bloodthirsty general. But he's actually been enlisted to fight against a termite army.
Every ant has his day.
What's The Genre Of The Antz Movie?
Genres: Adventure, Animation, Comedy, Family
Who Stars In The Antz Movie?
When Was The Motion Picture Antz Released?
Released: October 2, 1998
What's The Runtime Of The Antz Movie?
How Popular Is The Antz Movie?
Popularity Rating: 16.026
What Studio(s) Produced The Antz Film?
Who Was On The Cast Of The Motion Picture Antz?
Who Was On The Crew Of Antz The Movie?
Art — Art Direction: Kendal Cronkhite
Art — Production Design: John Bell
Art — Production Illustrator: Shannon Jeffries
Art — Sculptor: Damon Bard
Art — Set Designer: Don Weinger
Crew — Additional Music: Gavin Greenaway
Crew — Choreographer: Adam Shankman
Crew — Creative Consultant: Ted Elliott
Crew — Executive Music Producer: Hans Zimmer
Crew — Post Production Supervisor: Erica Frauman
Crew — Production Controller: Gary L. Wohlleben
Crew — Special Sound Effects: John Pospisil
Crew — Supervising Animator: Rex Grignon
Crew — Supervising Technical Director: George Bruder
Crew — Systems Administrators & Support: Michael Cutler
Crew — Thanks: Brad Reinke
Crew — Thanks: David Lipman
Crew — Thanks: Jennifer Nash
Crew — Thanks: Michael Kahn
Crew — Thanks: Nina Jacobson
Directing — Director: Eric Darnell
Directing — Director: Tim Johnson
Directing — Layout: James Buckhouse
Editing — Color Timer: Terry Claborn
Editing — Editor: Stan Webb
Editing — Editorial Coordinator: Carol Norton
Editing — First Assistant Editor: Devon Miller
Lighting — Lighting Artist: Annmarie Koenig
Lighting — Lighting Supervisor: Craig Ring
Production — Casting: Christi Soper
Production — Casting: Leslee Feldman
Production — Casting: Sandy Holt
Production — Executive Producer: Carl Rosendahl
Production — Executive Producer: Penney Finkelman Cox
Production — Executive Producer: Sandra Rabins
Production — Producer: Aron Warner
Production — Producer: Brad Lewis
Production — Producer: Patty Wooton
Production — Production Coordinator: Jennifer Dahlman
Production — Production Manager: Jane Hartwell
Production — Production Supervisor: Denise Nolan Cascino
Production — Researcher: Rahul Chandrakant Thakkar
Sound — Assistant Sound Editor: Sonny Pettijohn
Sound — Foley: Linda Lew
Sound — Music Editor: Adam Milo Smalley
Sound — Music Editor: Bob Badami
Sound — Music Editor: Brian Richards
Sound — Music Editor: Jennifer Nash
Sound — Orchestrator: Marcy Dicterow-Vaj
Sound — Original Music Composer: Harry Gregson-Williams
Sound — Original Music Composer: John Powell
Sound — Sound: Mark Jan Wlodarkiewicz
Sound — Sound Editor: Julia Evershade
Sound — Sound Mixer: Gregg Landaker
Sound — Sound Recordist: Frank Fleming
Sound — Supervising Sound Editor: Richard L. Anderson
Visual Effects — 3D Modeller: Stephen Sobisky
Visual Effects — Animation: Adam Valdez
Visual Effects — Animation: Justin Kohn
Visual Effects — Visual Effects: Nick Foster
Visual Effects — Visual Effects Coordinator: Jennifer Freeman
Visual Effects — Visual Effects Supervisor: Ken Bielenberg
Writing — Screenplay: Chris Weitz
Writing — Screenplay: Paul Weitz
Writing — Screenplay: Todd Alcott
Writing — Storyboard: Mike Cachuela