Information On The Film Avatar
All about the movie Avatar. Get information on the motion picture Avatar including; genre, directors, producers, stars, supporting actors, ratings, studios and more at IconMovies.net.
Avatar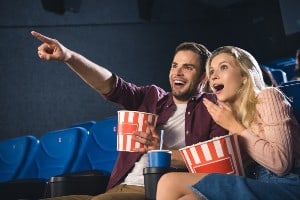 Avatar Film Information
What's The Movie Avatar About?
In the 22nd century, a paraplegic Marine is dispatched to the moon Pandora on a unique mission, but becomes torn between following orders and protecting an alien civilization.
Enter the World of Pandora.
What's The Collection The Avatar Movie Belongs to?
What's The Genre Of The Avatar Movie?
Genres: Action, Adventure, Fantasy, Science Fiction
Who Stars In The Avatar Movie?
When Was The Motion Picture Avatar Released?
Released: December 10, 2009
What's The Runtime Of The Avatar Movie?
How Popular Is The Avatar Movie?
Popularity Rating: 185.071
What Studio(s) Produced The Avatar Film?
Who Was On The Cast Of The Motion Picture Avatar?
Who Was On The Crew Of Avatar The Movie?
Art — Art Department Coordinator: Rebecca Jellie
Art — Art Department Manager: Paul Tobin
Art — Art Direction: Andrew Menzies
Art — Art Direction: Andy McLaren
Art — Art Direction: Jill Cormack
Art — Art Direction: Nick Bassett
Art — Art Direction: Robert Bavin
Art — Art Direction: Sean Haworth
Art — Art Direction: Simon Bright
Art — Assistant Art Director: Jeffrey Wisniewski
Art — Assistant Art Director: Mike Stassi
Art — Conceptual Design: Seth Engstrom
Art — Construction Coordinator: John Villarino
Art — Production Design: Rick Carter
Art — Production Design: Robert Stromberg
Art — Set Decoration: Kim Sinclair
Art — Set Designer: C. Scott Baker
Art — Set Designer: David Chow
Art — Set Designer: Jonathan Dyer
Art — Set Designer: Joseph Hiura
Art — Set Designer: Karl J. Martin
Art — Set Designer: Luke Caska
Art — Set Designer: Richard F. Mays
Art — Set Designer: Robert Andrew Johnson
Art — Set Designer: Sam Page
Art — Set Designer: Scott Herbertson
Art — Set Designer: Tammy S. Lee
Art — Set Designer: Tex Kadonaga
Art — Supervising Art Director: Kevin Ishioka
Art — Supervising Art Director: Kim Sinclair
Art — Supervising Art Director: Stefan Dechant
Art — Supervising Art Director: Todd Cherniawsky
Camera — Camera Operator: Richard Bluck
Camera — Director of Photography: Chiling Lin
Camera — Director of Photography: Mauro Fiore
Camera — Steadicam Operator: David Emmerichs
Camera — Steadicam Operator: Roberto De Angelis
Camera — Still Photographer: Mark Fellman
Costume & Make-Up — Costume Design: Deborah Lynn Scott
Costume & Make-Up — Costume Design: John Harding
Costume & Make-Up — Costume Design: Mayes C. Rubeo
Costume & Make-Up — Costume Supervisor: Anthony Almaraz
Costume & Make-Up — Costume Supervisor: Beth Koenigsberg
Costume & Make-Up — Costume Supervisor: Carolyn M. Fenton
Costume & Make-Up — Costume Supervisor: Lisa Lovaas
Costume & Make-Up — Hairstylist: Linda DeVetta
Costume & Make-Up — Hairstylist: Roxane Griffin
Costume & Make-Up — Makeup Artist: Frankie Karena
Costume & Make-Up — Makeup Artist: Georgia Lockhart-Adams
Costume & Make-Up — Makeup Artist: Linda DeVetta
Costume & Make-Up — Makeup Department Head: Mike Smithson
Costume & Make-Up — Set Costumer: Alejandro M. Hernandez
Costume & Make-Up — Set Costumer: Lilia Mishel Acevedo
Crew — CG Supervisor: Adrian Fernandes
Crew — CG Supervisor: Andrew Morley
Crew — CG Supervisor: Andy Lomas
Crew — CG Supervisor: Ben White
Crew — CG Supervisor: Brad Alexander
Crew — CG Supervisor: David Weitzberg
Crew — CG Supervisor: Graeme Demmocks
Crew — CG Supervisor: Jerry Kung
Crew — CG Supervisor: Matthias Menz
Crew — CG Supervisor: Michael Mulholland
Crew — CG Supervisor: Michael Takarangi
Crew — CG Supervisor: Mike Perry
Crew — CG Supervisor: Mitch Gates
Crew — CG Supervisor: Philippe Rebours
Crew — CG Supervisor: Sebastian Marino
Crew — CG Supervisor: Sergei Nevshupov
Crew — CG Supervisor: Shadi Almassizadeh
Crew — CG Supervisor: Simon Clutterbuck
Crew — CG Supervisor: Thrain Shadbolt
Crew — Choreographer: Lula Washington
Crew — Dialect Coach: Carla Meyer
Crew — Motion Capture Artist: Terry Notary
Crew — Post Production Supervisor: Janace Tashjian
Crew — Special Effects Coordinator: Iain Hutton
Crew — Special Effects Coordinator: Steve Ingram
Crew — Stunt Coordinator: Garrett Warren
Crew — Stunt Coordinator: Stuart Thorp
Crew — Stunts: Ilram Choi
Crew — Stunts: Min Windle
Crew — Stunts: Woody Schultz
Crew — Transportation Coordinator: Denny Caira
Crew — Transportation Coordinator: James Waitkus
Crew — Visual Effects Art Director: Eric Oliver
Crew — Visual Effects Editor: Christopher Marino
Crew — Visual Effects Editor: Jim Milton
Crew — Visual Effects Editor: Lucas Putnam
Crew — Visual Effects Editor: Steve R. Moore
Crew — Visual Effects Editor: Thomas Nittmann
Directing — Director: James Cameron
Editing — Dialogue Editor: Cheryl Nardi
Editing — Dialogue Editor: Kim Foscato
Editing — Dialogue Editor: Marshall Winn
Editing — Digital Intermediate: Christine Carr
Editing — Digital Intermediate: Marvin Hall
Editing — Editor: James Cameron
Editing — Editor: John Refoua
Editing — Editor: Stephen E. Rivkin
Lighting — Best Boy Electric: Giles Coburn
Lighting — Lighting Artist: Arun Ram-Mohan
Lighting — Lighting Technician: Scott Sprague
Production — Casting: Mali Finn
Production — Casting: Margery Simkin
Production — Casting: Miranda Rivers
Production — Executive Producer: Laeta Kalogridis
Production — Producer: James Cameron
Production — Producer: Jon Landau
Production — Production Manager: Brigitte Yorke
Production — Production Supervisor: Jennifer Teves
Production — Publicist: Judy Alley
Sound — Foley: Dennie Thorpe
Sound — Foley: Jana Vance
Sound — Music Editor: Dick Bernstein
Sound — Original Music Composer: James Horner
Sound — Sound Designer: Christopher Boyes
Sound — Sound Effects Editor: Christopher Scarabosio
Sound — Sound Effects Editor: Ken Fischer
Sound — Sound Effects Editor: Shannon Mills
Sound — Sound Effects Editor: Tim Nielsen
Sound — Sound Re-Recording Mixer: William Stein
Sound — Supervising Sound Editor: Addison Teague
Sound — Supervising Sound Editor: Christopher Boyes
Sound — Supervising Sound Editor: Gwendolyn Yates Whittle
Visual Effects — Animation Director: Jeremy Hollobon
Visual Effects — Animation Director: Orlando Meunier
Visual Effects — Animation Director: Taisuke Tanimura
Visual Effects — Modeling: Matsune Suzuki
Visual Effects — Visual Effects Producer: Alain Lalanne
Visual Effects — Visual Effects Producer: Chris Del Conte
Visual Effects — Visual Effects Producer: Cyndi Ochs
Visual Effects — Visual Effects Producer: Jenny Foster
Visual Effects — Visual Effects Producer: Jill Brooks
Visual Effects — Visual Effects Producer: Joyce Cox
Visual Effects — Visual Effects Supervisor: Anthony 'Max' Ivins
Visual Effects — Visual Effects Supervisor: Dan Lemmon
Visual Effects — Visual Effects Supervisor: David Stinnett
Visual Effects — Visual Effects Supervisor: Edson Williams
Visual Effects — Visual Effects Supervisor: Eric Saindon
Visual Effects — Visual Effects Supervisor: Guy Williams
Visual Effects — Visual Effects Supervisor: John Bruno
Visual Effects — Visual Effects Supervisor: John Knoll
Visual Effects — Visual Effects Supervisor: Jonathan Fawkner
Visual Effects — Visual Effects Supervisor: Jonathan Rothbart
Visual Effects — Visual Effects Supervisor: Lucas Salton
Visual Effects — Visual Effects Supervisor: R. Christopher White
Visual Effects — Visual Effects Supervisor: Richard Martin
Visual Effects — Visual Effects Supervisor: Stephen Rosenbaum
Visual Effects — Visual Effects Supervisor: Steven Quale
Visual Effects — Visual Effects Supervisor: Wayne Stables
Writing — Screenplay: James Cameron
Writing — Writer: James Cameron