Information On The Film Bandits
All about the movie Bandits. Get information on the motion picture Bandits including; genre, directors, producers, stars, supporting actors, ratings, studios and more at IconMovies.net.
Bandits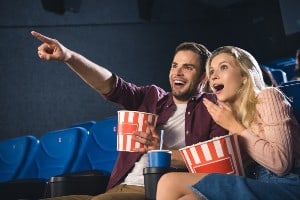 Bandits Film Information
What's The Movie Bandits About?
Two bank robbers fall in love with the girl they've kidnapped.
Two's company, three's a crime.
What's The Genre Of The Bandits Movie?
Genres: Action, Comedy, Crime, Romance
Who Stars In The Bandits Movie?
When Was The Motion Picture Bandits Released?
Released: October 12, 2001
What's The Runtime Of The Bandits Movie?
How Popular Is The Bandits Movie?
Popularity Rating: 13.137
What Studio(s) Produced The Bandits Film?
Who Was On The Cast Of The Motion Picture Bandits?
Who Was On The Crew Of Bandits The Movie?
Art — Art Department Coordinator: Abigail Sheiner
Art — Art Direction: Dan Webster
Art — Assistant Property Master: Chad Hagaman
Art — Construction Coordinator: Marvin Salsberg
Art — Construction Foreman: David Gabrielli
Art — Greensman: Jeffrey DeBell
Art — Leadman: Tommy Samona
Art — Painter: Victoria Carlson
Art — Production Design: Victor Kempster
Art — Set Decoration: Merideth Boswell
Art — Set Decoration Buyer: Kathleen Rosen
Art — Set Designer: Charisse Cardenas
Art — Set Dresser: Ryan T. Mennealy
Art — Standby Painter: Christian Zimmermann
Camera — Additional Camera: Chris Cuevas
Camera — Aerial Director of Photography: Kurt E. Soderling
Camera — Camera Loader: Will Dearborn
Camera — Camera Operator: Gary Jay
Camera — Director of Photography: Dante Spinotti
Camera — Dolly Grip: Chris Gordon
Camera — First Assistant Camera: Duane Manwiller
Camera — Grip: Marc Wall
Camera — Key Grip: Scott M. Robinson
Camera — Steadicam Operator: Colin Anderson
Camera — Still Photographer: Richard J. Cartwright
Costume & Make-Up — Costume Design: Gloria Gresham
Costume & Make-Up — Costume Supervisor: Mitchell Ray Kenney
Costume & Make-Up — Hair Department Head: Emanuel Millar
Costume & Make-Up — Hairstylist: Marlene D. Williams
Costume & Make-Up — Key Hair Stylist: Michelle Weiss
Costume & Make-Up — Makeup Artist: Nikoletta Skarlatos
Costume & Make-Up — Makeup Department Head: Deborah K. Larsen
Costume & Make-Up — Set Costumer: Toby Bronson
Crew — Additional Music: Christian Klikovits
Crew — Carpenter: Gilbert Johnson
Crew — Craft Service: Jeff Winn
Crew — Dialect Coach: Carla Meyer
Crew — Driver: Terry R. Owens
Crew — Executive Music Producer: Allan Mason
Crew — Picture Car Coordinator: Anthony S. Loguzzo
Crew — Pilot: Cliff Fleming
Crew — Post Production Supervisor: Blair Daily
Crew — Property Master: Sean Mannion
Crew — Propmaker: Neil Garland
Crew — Scenic Artist: John Root
Crew — Second Unit: Conrad E. Palmisano
Crew — Set Medic: Bundy Chanock
Crew — Set Production Assistant: Susan Ransom
Crew — Special Effects Coordinator: Thomas L. Bellissimo
Crew — Stand In: Michael Greggans
Crew — Stunt Coordinator: Conrad E. Palmisano
Crew — Stunts: Robin Lynn Bonaccorsi
Crew — Transportation Captain: Gene Ward
Crew — Transportation Coordinator: Morris Aroesti
Crew — Unit Publicist: Spooky Stevens
Directing — Director: Barry Levinson
Directing — First Assistant Director: Josh McLaglen
Directing — Script Supervisor: Kerry Lyn McKissick
Editing — Color Timer: Dale E. Grahn
Editing — Dialogue Editor: Jonathan Null
Editing — Editor: Stu Linder
Editing — First Assistant Editor: Jason Joseph
Lighting — Chief Lighting Technician: Jeffrey W. Petersen
Lighting — Electrician: Dino Corti
Lighting — Lighting Technician: Kevin J. Lang
Lighting — Rigging Grip: Jim Duggan
Production — Assistant Production Coordinator: Abbie Ludwig
Production — Associate Producer: Lenny Vullo
Production — Associate Producer: Stephen J. Eads
Production — Casting: Ellen Chenoweth
Production — Casting Associate: Wendy Weidman
Production — Co-Producer: Freddie Glusman
Production — Co-Producer: Jim Andrino
Production — Executive Producer: David Willis
Production — Executive Producer: Harley Peyton
Production — Executive Producer: Patrick McCormick
Production — Executive Producer: Paula Weinstein
Production — Location Manager: John Panzarella
Production — Producer: Arnold Rifkin
Production — Producer: Ashok Amritraj
Production — Producer: Barry Levinson
Production — Producer: David Hoberman
Production — Producer: Michael Birnbaum
Production — Producer: Michele Berk
Production — Producer: Paula Weinstein
Production — Production Supervisor: Kate Kelly
Sound — ADR Editor: Michael Silvers
Sound — Boom Operator: Jules Strasser
Sound — Conductor: Pete Anthony
Sound — Foley: Tony Eckert
Sound — Foley Editor: Andrea Gard
Sound — Music Editor: Michael T. Andreas
Sound — Musician: Larry Campbell
Sound — Original Music Composer: Christopher Young
Sound — Production Sound Mixer: Ronald G. Cogswell
Sound — Sound Designer: Christopher Scarabosio
Sound — Sound Effects Editor: Teresa Eckton
Sound — Sound Re-Recording Mixer: Lora Hirschberg
Sound — Supervising Music Editor: Chris McGeary
Sound — Supervising Sound Editor: Marcie Romano
Sound — Utility Sound: Kurt Peterson
Visual Effects — Visual Effects: Derek Ledbetter
Writing — Screenplay: Harley Peyton
Writing — Storyboard: Raymond Consing