Information On The Film Chef
All about the movie Chef. Get information on the motion picture Chef including; genre, directors, producers, stars, supporting actors, ratings, studios and more at IconMovies.net.
Chef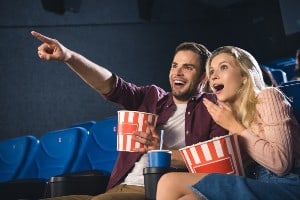 Chef Film Information
What's The Movie Chef About?
When Chef Carl Casper suddenly quits his job at a prominent Los Angeles restaurant after refusing to compromise his creative integrity for its controlling owner, he is left to figure out what's next. Finding himself in Miami, he teams up with his ex-wife, his friend and his son to launch a food truck. Taking to the road, Chef Carl goes back to his roots to reignite his passion for the kitchen -- and zest for life and love.
Starting from scratch never tasted so good.
What's The Genre Of The Chef Movie?
Who Stars In The Chef Movie?
When Was The Motion Picture Chef Released?
What's The Runtime Of The Chef Movie?
How Popular Is The Chef Movie?
What Studio(s) Produced The Chef Film?
Who Was On The Cast Of The Motion Picture Chef?
Who Was On The Crew Of Chef The Movie?
Art — Art Department Coordinator: Leslie Borchert
Art — Art Direction: Alicia Maccarone
Art — Production Design: Denise Pizzini
Art — Property Master: James Lee Kroning
Art — Set Decoration: Bryan Venegas
Camera — Camera Operator: Darin Moran
Camera — Camera Operator: Don Devine
Camera — Director of Photography: Kramer Morgenthau
Camera — Key Grip: Charles Crivier
Camera — Steadicam Operator: Henry Tirl
Camera — Still Photographer: Merrick Morton
Costume & Make-Up — Assistant Costume Designer: Tabitha Johnson
Costume & Make-Up — Costume Design: Laura Jean Shannon
Costume & Make-Up — Costume Supervisor: Sarah Lee-Taylor
Costume & Make-Up — Hair Department Head: Marie Larkin
Costume & Make-Up — Hairstylist: Davy Newkirk
Costume & Make-Up — Hairstylist: Jeri Baker
Costume & Make-Up — Hairstylist: Natasha Allegro
Costume & Make-Up — Hairstylist: Peggy Semtob
Costume & Make-Up — Key Hair Stylist: Clare M. Corsick
Costume & Make-Up — Key Makeup Artist: George Black
Costume & Make-Up — Makeup Artist: Heba Thorisdottir
Costume & Make-Up — Makeup Artist: Valli O'Reilly
Costume & Make-Up — Makeup Department Head: Kate Biscoe
Costume & Make-Up — Set Costumer: Eddie Gomez
Crew — Additional Music: Lyle Workman
Crew — Post Production Supervisor: Bill Wohlken
Crew — Post Production Supervisor: Sheryl Benko
Crew — Special Effects Coordinator: Mark R. Byers
Crew — Studio Teachers: Lois Yaroshefsky
Crew — Transportation Captain: Nathan Hardcastle
Crew — Transportation Coordinator: Michael Menapace
Crew — Unit Publicist: John M. Pisani
Crew — Visual Effects Editor: Corinne Villa
Directing — Director: Jon Favreau
Directing — First Assistant Director: Gregory G. Hale
Directing — Script Supervisor: Kathy McHugh
Directing — Second Assistant Director: David Kelley
Editing — Assistant Editor: Gregg London
Editing — Assistant Editor: Maria Gonzales
Editing — Dialogue Editor: Brian Chumney
Editing — Dialogue Editor: Michael Silvers
Editing — Dialogue Editor: Steve Slanec
Editing — Editor: Robert Leighton
Editing — First Assistant Editor: Danny Miller
Lighting — Chief Lighting Technician: Brett Laumann
Lighting — Rigging Gaffer: Eugene M. Bernal
Production — ADR Voice Casting: Barbara Harris
Production — Associate Producer: John Bartnicki
Production — Casting: Sarah Finn
Production — Casting Assistant: Claire Koonce
Production — Casting Assistant: Jason B. Stamey
Production — Casting Associate: Tamara Hunter
Production — Co-Producer: Roy Choi
Production — Executive Producer: Anne Sheehan
Production — Executive Producer: Boris Teterev
Production — Executive Producer: Craig Chapman
Production — Executive Producer: Dylan Russell
Production — Executive Producer: Gleb Fetisov
Production — Executive Producer: James D. Brubaker
Production — Executive Producer: Jason Rose
Production — Executive Producer: Jere Hausfater
Production — Executive Producer: Jerry Fruchtman
Production — Executive Producer: Karen Gilchrist
Production — Executive Producer: Marina Bespalov
Production — Executive Producer: Mark C. Manuel
Production — Executive Producer: Molly Allen
Production — Executive Producer: Oleg Teterin
Production — Executive Producer: Paul Brett
Production — Executive Producer: Peter Fruchtman
Production — Executive Producer: Philip Elway
Production — Executive Producer: Scott Steindorff
Production — Executive Producer: Ted O'Neal
Production — Executive Producer: Tim Smith
Production — Location Manager: Kei Rowan-Young
Production — Producer: Jon Favreau
Production — Producer: Sergei Bespalov
Production — Production Accountant: Terri Greening
Production — Production Coordinator: Lisa Vijitchanton
Production — Production Supervisor: Peggy Robinson
Production — Unit Production Manager: Molly Allen
Sound — ADR Editor: Michele Perrone
Sound — Boom Operator: Scott Jacobs
Sound — Foley Editor: Benjamin A. Burtt
Sound — Music Editor: Tanya Noel Hill
Sound — Music Supervisor: Mathieu Schreyer
Sound — Production Sound Mixer: Ron Judkins
Sound — Sound Designer: Tom Myers
Sound — Sound Effects Editor: Christopher Scarabosio
Sound — Sound Re-Recording Mixer: Christopher Boyes
Sound — Sound Re-Recording Mixer: Gary Summers
Sound — Supervising Sound Editor: Michael Silvers
Sound — Supervising Sound Editor: Steve Slanec
Sound — Utility Sound: Alex Names
Writing — Writer: Jon Favreau