Information On The Film City of God
All about the movie City of God. Get information on the motion picture City of God including; genre, directors, producers, stars, supporting actors, ratings, studios and more at IconMovies.net.
City of God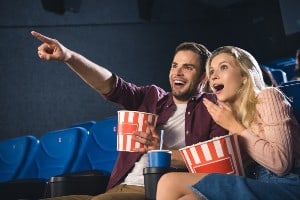 City of God Film Information
What's The Movie City of God About?
Cidade de Deus is a shantytown that started during the 1960s and became one of Rio de Janeiro's most dangerous places in the beginning of the 1980s. To tell the story of this place, the movie describes the life of various characters, all seen by the point of view of the narrator, Buscapé. Buscapé was raised in a very violent environment. Despite the feeling that all odds were against him, he finds out that life can be seen with other eyes: The eyes of an artist. By accident, he becomes a professional photographer, gaining his freedom.
If you run you're dead... if you stay, you're dead again. Period.
What's The Genre Of The City of God Movie?
Who Stars In The City of God Movie?
When Was The Motion Picture City of God Released?
Released: February 5, 2002
What's The Runtime Of The City of God Movie?
How Popular Is The City of God Movie?
Popularity Rating: 14.959
What Studio(s) Produced The City of God Film?
Who Was On The Cast Of The Motion Picture City of God?
Who Was On The Crew Of City of God The Movie?
Art — Production Design: Tule Peak
Camera — Director of Photography: Cesar Charlone
Camera — First Assistant Camera: Pablo Hoffmann
Camera — Steadicam Operator: Fabricio Tadeu
Costume & Make-Up — Costume Design: Bia Salgado
Costume & Make-Up — Costume Design: Ines Salgado
Costume & Make-Up — Makeup Artist: Anna Van Steen
Crew — Sound Recordist: Unsun Song
Directing — Director: Fernando Meirelles
Directing — Director: Katia Lund
Editing — Dialogue Editor: Lisa Geffcken-Reinhard
Editing — Editor: Daniel Rezende
Production — Executive Producer: Bel Berlinck
Production — Executive Producer: Elisa Tolomelli
Production — Producer: Andrea Barata Ribeiro
Production — Producer: Daniel Filho
Production — Producer: Donald Ranvaud
Production — Producer: Hank Levine
Production — Producer: Juliette Renaud
Production — Producer: Marc Beauchamps
Production — Producer: Mauricio Andrade Ramos
Production — Producer: Vincent Maraval
Production — Producer: Walter Salles
Production — Production Manager: Claudine Franco
Production — Production Manager: Rene Bittencourt
Sound — Original Music Composer: Antonio Pinto
Sound — Original Music Composer: Ed Cortes
Sound — Sound Designer: Martin Hernandez
Sound — Sound Effects Editor: Roland N. Thai
Sound — Sound Re-Recording Mixer: Rudy Pi
Visual Effects — Creature Design: Francisco Bispo
Visual Effects — Visual Effects Supervisor: Renato Batata
Writing — Author: Paulo Lins
Writing — Screenplay: Braulio Mantovani
Writing — Screenplay: Paulo Lins