Information On The Film Concussion
All about the movie Concussion. Get information on the motion picture Concussion including; genre, directors, producers, stars, supporting actors, ratings, studios and more at IconMovies.net.
Concussion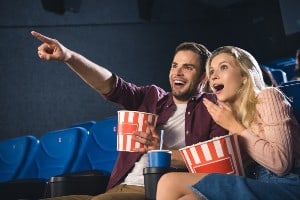 Concussion Film Information
What's The Movie Concussion About?
A dramatic thriller based on the incredible true David vs. Goliath story of American immigrant Dr. Bennet Omalu, the brilliant forensic neuropathologist who made the first discovery of CTE, a football-related brain trauma, in a pro player and fought for the truth to be known. Omalu's emotional quest puts him at dangerous odds with one of the most powerful institutions in the world.
Even Legends Need a Hero
What's The Genre Of The Concussion Movie?
Who Stars In The Concussion Movie?
When Was The Motion Picture Concussion Released?
Released: November 12, 2015
What's The Runtime Of The Concussion Movie?
How Popular Is The Concussion Movie?
What Studio(s) Produced The Concussion Film?
Who Was On The Cast Of The Motion Picture Concussion?
Who Was On The Crew Of Concussion The Movie?
Art — Art Department Coordinator: Jenn Albaugh
Art — Art Direction: Tom Frohling
Art — Assistant Art Director: Christina Myal
Art — Construction Coordinator: Buster Pile
Art — Greensman: Michael Dolhi
Art — Leadman: Antonio Andraus
Art — Leadman: Justin Pelissero
Art — Production Design: David Crank
Art — Set Decoration: James V. Kent
Camera — Camera Operator: John S. Moyer
Camera — Director of Photography: Salvatore Totino
Camera — First Assistant Camera: Brian Greenway
Camera — First Assistant Camera: Peter Geraghty
Camera — Helicopter Camera: Dylan Goss
Camera — Still Photographer: Melinda Sue Gordon
Costume & Make-Up — Assistant Costume Designer: Stacy Caballero
Costume & Make-Up — Costume Design: Dayna Pink
Costume & Make-Up — Costume Supervisor: Dana Kay Hart
Costume & Make-Up — Hair Department Head: Kathrine Gordon
Costume & Make-Up — Hairstylist: Pierce Austin
Costume & Make-Up — Key Hair Stylist: Sherri Bramlett
Costume & Make-Up — Makeup Artist: Judy Murdock
Costume & Make-Up — Makeup Artist: Marianne Skiba
Costume & Make-Up — Makeup Department Head: Jacenda Burkett
Costume & Make-Up — Seamstress: Kari Kramer
Costume & Make-Up — Set Costumer: Yen Do
Crew — Makeup Effects: Chris Gallaher
Crew — Makeup Effects: Tami Lane
Crew — Property Master: Matthew Cavaliero
Crew — Special Effects Coordinator: Ray Bivins
Directing — Director: Peter Landesman
Directing — Script Supervisor: Megan Graham
Directing — Script Supervisor: Tracy Scott
Editing — Dialogue Editor: Michelle Pazer
Editing — Dialogue Editor: Robert Troy
Editing — Digital Intermediate: David Alonzo
Editing — Digital Intermediate: Morning Star Schott
Editing — Editor: William Goldenberg
Editing — First Assistant Editor: Andrew S. Eisen
Lighting — Gaffer: Jay Kemp
Lighting — Rigging Gaffer: Steve Cohagan
Production — Casting: Lindsay Graham
Production — Casting: Mary Vernieu
Production — Casting Associate: Linda Weaver
Production — Casting Associate: Marisol Roncali
Production — Co-Producer: Amal Baggar
Production — Executive Producer: Ben Waisbren
Production — Executive Producer: Bruce Berman
Production — Executive Producer: David Crockett
Production — Executive Producer: Greg Basser
Production — Executive Producer: Michael Schaefer
Production — Producer: David Wolthoff
Production — Producer: Elizabeth Cantillon
Production — Producer: Giannina Facio-Scott
Production — Producer: Larry Shuman
Production — Producer: Ridley Scott
Sound — Foley: Gary A. Hecker
Sound — Foley: Rick Owens
Sound — Original Music Composer: James Newton Howard
Sound — Sound Designer: David Esparza
Sound — Sound Effects Editor: Ando Johnson
Sound — Sound Re-Recording Mixer: Christian P. Minkler
Sound — Sound Re-Recording Mixer: Michael Minkler
Sound — Supervising Sound Editor: Dave McMoyler
Visual Effects — Visual Effects Producer: Michele C. Vallillo
Visual Effects — Visual Effects Producer: Michelle Eisenreich
Visual Effects — Visual Effects Supervisor: Jamie Dixon
Writing — Writer: Jeanne Marie Laskas
Writing — Writer: Peter Landesman