Information On The Film Contact
All about the movie Contact. Get information on the motion picture Contact including; genre, directors, producers, stars, supporting actors, ratings, studios and more at IconMovies.net.
Contact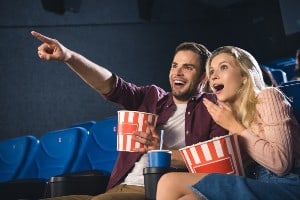 Contact Film Information
What's The Movie Contact About?
Contact is a science fiction film about an encounter with alien intelligence. Based on the novel by Carl Sagan the film starred Jodie Foster as the one chosen scientist who must make some difficult decisions between her beliefs, the truth, and reality.
If it's just us, it seems like an awful waste of space.
What's The Genre Of The Contact Movie?
Genres: Drama, Mystery, Science Fiction
Who Stars In The Contact Movie?
When Was The Motion Picture Contact Released?
What's The Runtime Of The Contact Movie?
How Popular Is The Contact Movie?
Popularity Rating: 14.375
What Studio(s) Produced The Contact Film?
Who Was On The Cast Of The Motion Picture Contact?
Who Was On The Crew Of Contact The Movie?
Art — Art Department Assistant: John B. Josselyn
Art — Art Department Coordinator: Beth Bernstein
Art — Art Direction: Bruce Crone
Art — Art Direction: Lawrence A. Hubbs
Art — Assistant Art Director: Brad Ricker
Art — Assistant Art Director: Doug J. Meerdink
Art — Assistant Art Director: Sally Thornton
Art — Conceptual Design: George Denes Suhayda
Art — Construction Coordinator: Michael Diersing
Art — Construction Foreman: Jerrold F. Brooks
Art — Construction Foreman: Scott E. Handt
Art — Greensman: Frank McEldowney
Art — Greensman: Hap Weaver
Art — Leadman: David Manhan
Art — Location Scout: Kathleen Beall
Art — Production Design: Ed Verreaux
Art — Set Decoration: Michael Taylor
Art — Set Designer: Dean Wolcott
Art — Set Designer: Easton Michael Smith
Art — Set Designer: Evelyn Barbier
Art — Set Designer: James F. Claytor Sr.
Art — Set Designer: Josh Lusby
Art — Set Designer: Kristen Pratt
Art — Set Designer: Mariko Braswell
Art — Standby Painter: Robert E. Denne
Camera — Additional Photography: Dennis Boni
Camera — Camera Operator: Josh Bleibtreu
Camera — Camera Operator: Nick Phillips
Camera — Camera Operator: Robert LaBonge
Camera — Camera Technician: Steven J. Winslow
Camera — Director of Photography: Don Burgess
Camera — First Assistant Camera: Michael Condro
Camera — Grip: James Conroy
Camera — Key Grip: Steve Smith
Camera — Steadicam Operator: Gregory Lundsgaard
Camera — Steadicam Operator: Mark O'Kane
Camera — Still Photographer: Francois Duhamel
Camera — Still Photographer: Michael Douglas Middleton
Costume & Make-Up — Assistant Costume Designer: Jessica Fasman
Costume & Make-Up — Costume Design: Joanna Johnston
Costume & Make-Up — Costume Supervisor: Betty Brikowski
Costume & Make-Up — Costume Supervisor: Pamela Wise
Costume & Make-Up — Hairstylist: Audrey L. Anzures
Costume & Make-Up — Hairstylist: Carolyn Elias
Costume & Make-Up — Hairstylist: Frances Mathias
Costume & Make-Up — Key Hair Stylist: Kathryn Blondell
Costume & Make-Up — Makeup Artist: Deborah La Mia Denaver
Costume & Make-Up — Makeup Artist: Hallie D'Amore
Costume & Make-Up — Makeup Artist: Jean-Luc Russier
Costume & Make-Up — Makeup Artist: Margaret E. Elliott
Costume & Make-Up — Makeup Artist: Roxanna Floyd
Costume & Make-Up — Prosthetic Makeup Artist: Keith VanderLaan
Costume & Make-Up — Set Costumer: Kenn Smiley
Costume & Make-Up — Set Costumer: Patricia Bercsi
Costume & Make-Up — Set Costumer: Steve Ellsworth
Costume & Make-Up — Set Costumer: Taryn Weaver
Costume & Make-Up — Set Dressing Artist: Sara Gardner-Gail
Crew — Aerial Coordinator: Kevin LaRosa
Crew — Carpenter: Thomas C. Mentzer
Crew — CG Supervisor: Matt Aitken
Crew — Craft Service: John Wright Jr.
Crew — Dialect Coach: Tim Monich
Crew — Digital Effects Supervisor: Victor Jimenez
Crew — Driver: Dan Brizendine
Crew — Mix Technician: Kent Sparling
Crew — Production Controller: Allen E. Taylor
Crew — Projection: Edward J. Ertel
Crew — Property Master: Robin L. Miller
Crew — Propmaker: Wayne Eaton
Crew — Scenic Artist: Susanna Glattly
Crew — Second Unit Cinematographer: Steve Starkey
Crew — Sequence Supervisor: David Jones
Crew — Sequence Supervisor: Jay Redd
Crew — Sequence Supervisor: Kee-Suk 'Ken' Hahn
Crew — Sequence Supervisor: Laurence Treweek
Crew — Sequence Supervisor: Sam Richards
Crew — Set Medic: Jeff Johnson
Crew — Set Production Assistant: Michelle Vogler
Crew — Software Engineer: Rob Engle
Crew — Special Effects: Marzette Bonar
Crew — Special Effects Coordinator: Eric Cook
Crew — Stand In: Michael Egan
Crew — Stunt Coordinator: Bud Davis
Crew — Stunts: Jay Caputo
Crew — Technical Supervisor: Bill Feightner
Crew — Transportation Captain: Randy Cantor
Crew — Transportation Co-Captain: David Diaz
Crew — Transportation Coordinator: Joel Marrow
Crew — Unit Publicist: Jane E. Russell
Crew — Video Assist Operator: David Presley
Crew — Video Assist Operator: Michael Noles
Crew — Visual Effects Art Director: Martin A. Kline
Crew — Visual Effects Editor: Heather J. Morrison
Crew — Visual Effects Editor: Kosta Saric
Crew — Visual Effects Editor: Michael McGovern
Directing — Assistant Director: Bruce Moriarty
Directing — Director: Robert Zemeckis
Directing — Script Supervisor: Luca Kouimelis
Editing — Additional Editing: Harry Keramidas
Editing — Color Timer: Bob Putynkowski
Editing — Dialogue Editor: Barbara McBane
Editing — Dialogue Editor: Ewa Sztompke
Editing — Dialogue Editor: Michael Silvers
Editing — Editor: Arthur Schmidt
Editing — First Assistant Editor: Carin-Anne Strohmaier
Editing — First Assistant Editor: Jeremiah O'Driscoll
Editing — First Assistant Editor: R. Orlando Duenas
Lighting — Electrician: Dave Mikutsky
Lighting — Gaffer: David Morton
Lighting — Lighting Technician: Steven C. McGee
Lighting — Rigging Grip: Rand R. Vargas
Production — Associate Producer: Rick Porras
Production — Associate Producer: Steven J. Boyd
Production — Casting: Victoria Burrows
Production — Casting Associate: Scot Boland
Production — Co-Producer: Ann Druyan
Production — Co-Producer: Carl Sagan
Production — Executive Producer: Joan Bradshaw
Production — Executive Producer: Lynda Obst
Production — Location Manager: Luz Eneida Nunez
Production — Location Manager: Paul Pav
Production — Location Manager: Peggy Pridemore
Production — Producer: Robert Zemeckis
Production — Producer: Steve Starkey
Production — Production Accountant: Allen E. Taylor
Production — Production Coordinator: Darcy Fray
Production — Production Office Coordinator: Ines Mongil-Echandi
Production — Production Supervisor: Dawn Guinta
Production — Unit Manager: Nannette Rosa Collazo
Production — Unit Production Manager: Joan Bradshaw
Sound — ADR & Dubbing: Sue Fox
Sound — Assistant Sound Editor: Kent Brown
Sound — Boom Operator: Earl Sampson
Sound — Foley: Catherine Harper
Sound — Foley: Dennie Thorpe
Sound — Music Editor: Kenneth Karman
Sound — Orchestrator: William Ross
Sound — Original Music Composer: Alan Silvestri
Sound — Production Sound Mixer: William B. Kaplan
Sound — Sound Designer: Randy Thom
Sound — Sound Effects Editor: Douglas Murray
Sound — Sound Effects Editor: Marian Wilde
Sound — Sound Effects Editor: Steve Boeddeker
Sound — Sound Effects Editor: Teresa Eckton
Sound — Sound Re-Recording Mixer: Dennis S. Sands
Sound — Sound Re-Recording Mixer: Gary Rizzo
Sound — Sound Re-Recording Mixer: Randy Thom
Sound — Sound Re-Recording Mixer: Tom Johnson
Sound — Sound Recordist: Randolph Saucedo
Sound — Supervising Sound Editor: Phil Benson
Visual Effects — 24 Frame Playback: Mark Marcum
Visual Effects — 3D Artist: Timothy Wilcox
Visual Effects — Digital Compositors: Tim Alexander
Visual Effects — Mechanical Designer: Jeff Deyoe
Visual Effects — Special Effects Supervisor: Allen Hall
Visual Effects — Visual Effects Coordinator: Theresa Corrao
Visual Effects — Visual Effects Producer: C. Marie Davis
Visual Effects — Visual Effects Producer: Debbie Denise
Visual Effects — Visual Effects Producer: Julia Frey
Visual Effects — Visual Effects Producer: Mark S. Miller
Visual Effects — Visual Effects Supervisor: Ariel Velasco-Shaw
Visual Effects — Visual Effects Supervisor: Joe Matza
Visual Effects — Visual Effects Supervisor: Kenneth Jones
Visual Effects — Visual Effects Supervisor: Lauren Alexandra Ritchie
Visual Effects — Visual Effects Supervisor: Michael L. Fink
Visual Effects — Visual Effects Supervisor: Stephen Rosenbaum
Writing — Novel: Carl Sagan
Writing — Screenplay: James V. Hart
Writing — Screenplay: Michael Goldenberg
Writing — Story: Ann Druyan
Writing — Story: Carl Sagan
Writing — Storyboard: Darryl Henley