Information On The Film Doom
All about the movie Doom. Get information on the motion picture Doom including; genre, directors, producers, stars, supporting actors, ratings, studios and more at IconMovies.net.
Doom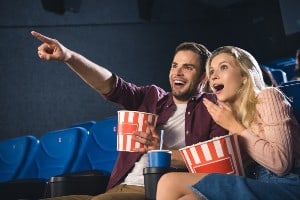 Doom Film Information
What's The Movie Doom About?
A team of space marines known as the Rapid Response Tactical Squad, led by Sarge, is sent to a science facility on Mars after somebody reports a security breach. There, they learn that the alert came after a test subject, a mass murderer purposefully injected with alien DNA, broke free and began killing people. Dr. Grimm, who is related to team member Reaper, informs them all that the chromosome can mutate humans into monsters -- and is highly infectious.
No one gets out alive.
What's The Genre Of The Doom Movie?
Genres: Action, Adventure, Horror
Who Stars In The Doom Movie?
When Was The Motion Picture Doom Released?
Released: October 20, 2005
What's The Runtime Of The Doom Movie?
How Popular Is The Doom Movie?
Popularity Rating: 11.954
What Studio(s) Produced The Doom Film?
Who Was On The Cast Of The Motion Picture Doom?
Who Was On The Crew Of Doom The Movie?
Art — Art Department Coordinator: Gabriela Dolenska
Art — Art Direction: Dominic Masters
Art — Assistant Art Director: Charles Leatherland
Art — Construction Coordinator: Martina Ter-Akopowa
Art — Production Design: Stephen Scott
Art — Set Decoration: Richard Roberts
Art — Supervising Art Director: Peter Francis
Camera — Camera Operator: Jakub Dvorsky
Camera — Camera Operator: Jiri Malek
Camera — Camera Operator: John Bailie
Camera — Camera Operator: Stuart Howell
Camera — Director of Photography: Tony Pierce-Roberts
Camera — Steadicam Operator: Jaromir Sedina
Camera — Still Photographer: Keith Hamshere
Costume & Make-Up — Costume Design: Carlo Poggioli
Costume & Make-Up — Costume Supervisor: Jo Korer
Costume & Make-Up — Costume Supervisor: Sarka Zvolenska
Costume & Make-Up — Hairstylist: Katka Vavrova
Costume & Make-Up — Hairstylist: Nuria Mbomio
Costume & Make-Up — Hairstylist: Rachel Solow
Costume & Make-Up — Makeup Artist: Hana Surkalova
Costume & Make-Up — Makeup Artist: Jeff Dawn
Costume & Make-Up — Makeup Artist: Pau Loewe
Costume & Make-Up — Set Costumer: Rebecca Higginson
Costume & Make-Up — Set Costumer: Viera Zvonarova
Crew — CG Supervisor: Fredrik Sundqvist
Crew — CG Supervisor: Jesper Kjolsrud
Crew — CG Supervisor: Laurent Hugueniot
Crew — Property Master: Raymond Perry
Crew — Second Unit Cinematographer: Shaun O'Dell
Crew — Sequence Supervisor: Gael Seydoux
Crew — Stunt Coordinator: Joe Dunne
Crew — Stunt Coordinator: Pavel Cajzl
Crew — Transportation Coordinator: Jiri Kotlas
Crew — Transportation Coordinator: Silvie Janculova
Crew — Unit Publicist: Geoff Freeman
Crew — Visual Effects Editor: Ray Lau
Crew — Visual Effects Editor: Richard Diver
Directing — Director: Andrzej Bartkowiak
Directing — Script Supervisor: Sharon Mansfield
Directing — Script Supervisor: Sue Field
Editing — Dialogue Editor: Howard Halsall
Editing — Dialogue Editor: Sue Lenny
Editing — Digital Intermediate: Jay Warren
Editing — Editor: Derek Brechin
Lighting — Gaffer: Petr Konrad
Lighting — Gaffer: Tommy Finch
Lighting — Gaffer: Vaclav Cermak
Lighting — Rigging Gaffer: George White
Lighting — Rigging Gaffer: Vladimir Holzknecht
Production — Executive Producer: John D. Schofield
Production — Location Manager: Pavel Mrkous
Production — Producer: John Wells
Production — Producer: Lorenzo di Bonaventura
Sound — Dolby Consultant: Nick Watson
Sound — Foley: Ian Waggott
Sound — Foley: Paul Hanks
Sound — Music Editor: Dina Eaton
Sound — Original Music Composer: Clint Mansell
Sound — Sound Effects Editor: Jack Whittaker
Sound — Sound Effects Editor: Oliver Tarney
Sound — Sound Effects Editor: Simon Chase
Sound — Sound Re-Recording Mixer: Frank A. Montano
Sound — Sound Re-Recording Mixer: Mike Dowson
Sound — Supervising Sound Editor: John Leveque
Sound — Supervising Sound Editor: Michael Fentum
Visual Effects — Animation Supervisor: Kevin Spruce
Visual Effects — Creature Design: Enrique Bilsland
Visual Effects — Visual Effects Producer: Fiona Chilton
Visual Effects — Visual Effects Producer: Steve Garrad
Visual Effects — Visual Effects Producer: Tim Keene
Visual Effects — Visual Effects Supervisor: Frazer Churchill
Visual Effects — Visual Effects Supervisor: Jon Farhat
Visual Effects — Visual Effects Supervisor: Mark Nelmes
Writing — Screenplay: Dave Callaham
Writing — Screenplay: Wesley Strick