Information On The Film Dragonfly
All about the movie Dragonfly. Get information on the motion picture Dragonfly including; genre, directors, producers, stars, supporting actors, ratings, studios and more at IconMovies.net.
Dragonfly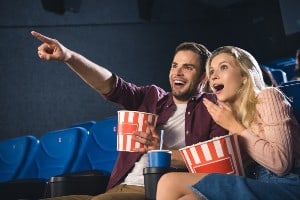 Dragonfly Film Information
What's The Movie Dragonfly About?
A grieving doctor is being contacted by his late wife through his patients near death experiences.
When someone you love dies... are they gone forever?
What's The Genre Of The Dragonfly Movie?
Who Stars In The Dragonfly Movie?
When Was The Motion Picture Dragonfly Released?
Released: February 22, 2002
What's The Runtime Of The Dragonfly Movie?
How Popular Is The Dragonfly Movie?
What Studio(s) Produced The Dragonfly Film?
Who Was On The Cast Of The Motion Picture Dragonfly?
Who Was On The Crew Of Dragonfly The Movie?
Art — Art Department Coordinator: Mitch Sutton
Art — Art Direction: James Nedza
Art — Assistant Art Director: Dawn Swiderski
Art — Assistant Art Director: Sally Thornton
Art — Production Design: Linda DeScenna
Art — Set Decoration: Ric McElvin
Camera — Camera Operator: Dwayne McClintock
Camera — Camera Operator: Richard Merryman
Camera — Director of Photography: Dean Semler
Camera — First Assistant Camera: Reggie Newkirk
Camera — Helicopter Camera: Phil Pastuhov
Camera — Steadicam Operator: Robert Presley
Costume & Make-Up — Assistant Costume Designer: Lahly Poore
Costume & Make-Up — Costume Design: Judy L. Ruskin
Costume & Make-Up — Costume Supervisor: Leigh Leverett
Costume & Make-Up — Hair Department Head: Beth Miller
Costume & Make-Up — Hairstylist: Elle Elliott
Costume & Make-Up — Hairstylist: Laine Trzinski
Costume & Make-Up — Key Hair Stylist: Judy Crown
Costume & Make-Up — Key Hair Stylist: Kerry Mendenhall
Costume & Make-Up — Makeup Artist: Chantal Boom'la
Costume & Make-Up — Makeup Artist: Francisco X. Perez
Costume & Make-Up — Makeup Artist: Jackie Dobbie
Costume & Make-Up — Makeup Artist: Marsha Shearrill
Costume & Make-Up — Makeup Department Head: Nena Smarz
Crew — CGI Supervisor: Elie Jamaa
Crew — Digital Effects Supervisor: Rudi Holzapfel
Crew — Second Unit Cinematographer: Don McCuaig
Crew — Special Effects Coordinator: Daniel Sudick
Crew — Visual Effects Editor: Scott Hill
Directing — Director: Tom Shadyac
Directing — Script Supervisor: Susan Bierbaum
Directing — Script Supervisor: Trisha Burton
Editing — Dialogue Editor: Jeffrey Kaplan
Editing — Dialogue Editor: Victoria Rose Sampson
Editing — Editor: Don Zimmerman
Editing — First Assistant Editor: Scott Hill
Lighting — Gaffer: James J. Gilson
Lighting — Gaffer: Jeff Gatesman
Lighting — Rigging Grip: Kim Heath
Lighting — Rigging Grip: Kirk Greenberg
Production — Casting: Debra Zane
Production — Casting: Elizabeth Marx
Production — Executive Producer: James D. Brubaker
Production — Executive Producer: Michael Bostick
Production — Producer: Alan B. Curtiss
Production — Producer: Arlene Kehela
Production — Producer: Gary Barber
Production — Producer: Janet L. Wattles
Production — Producer: Mark Johnson
Production — Producer: Roger Birnbaum
Production — Producer: Tom Shadyac
Sound — Music Editor: Jeff Carson
Sound — Original Music Composer: John Debney
Sound — Sound Effects Editor: Avram D. Gold
Sound — Sound Effects Editor: Brian Risner
Sound — Sound Effects Editor: Randall Guth
Sound — Sound Effects Editor: Richard C. Franklin
Sound — Sound Re-Recording Mixer: Greg P. Russell
Sound — Sound Re-Recording Mixer: Kevin O'Connell
Sound — Supervising Sound Editor: Michael Hilkene
Visual Effects — Visual Effects Coordinator: Mamie McCall
Visual Effects — Visual Effects Coordinator: Susie Brubaker
Visual Effects — Visual Effects Supervisor: Jon Farhat
Writing — Author: Brandon Camp
Writing — Author: David Seltzer
Writing — Author: Mike Thompson