Information On The Film Gothika
All about the movie Gothika. Get information on the motion picture Gothika including; genre, directors, producers, stars, supporting actors, ratings, studios and more at IconMovies.net.
Gothika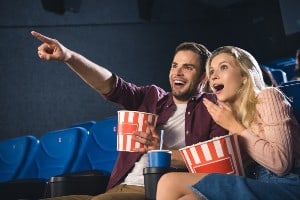 Gothika Film Information
What's The Movie Gothika About?
After a car crash, a criminal psychologist (Halle Berry) comes to, only to find that she's a patient in the same mental institution that currently employs her. It seems she's been accused of murdering her husband -- but she has no memory of committing the crime. As she tries to regain her memory and convince her co-workers of her innocence, a vengeful spirit uses her as an earthly pawn, which further convinces everyone of her guilt.
Because someone is dead doesn't mean they're gone.
What's The Genre Of The Gothika Movie?
Who Stars In The Gothika Movie?
When Was The Motion Picture Gothika Released?
Released: November 21, 2003
What's The Runtime Of The Gothika Movie?
How Popular Is The Gothika Movie?
Popularity Rating: 10.939
What Studio(s) Produced The Gothika Film?
Who Was On The Cast Of The Motion Picture Gothika?
Who Was On The Crew Of Gothika The Movie?
Art — Art Department Coordinator: Natacha Antiglio
Art — Art Direction: Isabelle Guay
Art — Assistant Art Director: Nicolas Lepage
Art — Assistant Property Master: Andre Valade
Art — Construction Coordinator: Michel Brochu
Art — Production Design: Graham 'Grace' Walker
Art — Production Illustrator: Phil Shearer
Art — Set Decoration: Marie-Claude Gosselin
Art — Set Designer: Frederic Amblard
Art — Set Dresser: Simon Chamberland
Camera — Additional Camera: Sylvaine Dufaux
Camera — Camera Operator: Francois Daignault
Camera — Director of Photography: Matthew Libatique
Camera — Dolly Grip: Pierre Charpentier
Camera — First Assistant Camera: Claude Beauchamp
Camera — Grip: Jean-Yves Denis
Camera — Key Grip: Kenneth MacKenzie
Camera — Still Photographer: Attila Dory
Camera — Underwater Camera: Brent Robinson
Camera — Underwater Director of Photography: Pete Romano
Costume & Make-Up — Ager/Dyer: Valerie Bordeleau
Costume & Make-Up — Assistant Costume Designer: Peggy A. Schnitzer
Costume & Make-Up — Costume Design: Kym Barrett
Costume & Make-Up — Costume Supervisor: Lisa Lovaas
Costume & Make-Up — Hairstylist: Anne-Marie Lanza
Costume & Make-Up — Key Hair Stylist: Andre Duval
Costume & Make-Up — Key Makeup Artist: Louise Mignault
Costume & Make-Up — Makeup Artist: Camille Belanger
Crew — Additional Music: Lior Rosner
Crew — Craft Service: Yannick Champagne
Crew — Digital Effects Supervisor: Danny Braet
Crew — Driver: Bertrand Calmeau
Crew — Loader: Soupharak Keoborakoth
Crew — Makeup Effects: Erik Gosselin
Crew — Post Production Supervisor: Adam Avery
Crew — Scenic Artist: Serge Archambault
Crew — Second Unit Cinematographer: Spiro Razatos
Crew — Set Medic: Denis Proulx
Crew — Set Production Assistant: Karim El Fassi
Crew — Software Engineer: John Charles
Crew — Sound Recordist: Martin Schloemer
Crew — Stunt Coordinator: Steve Lucescu
Crew — Stunts: Annie Carignan
Crew — Stunts: Crystal Michelle
Crew — Transportation Captain: Greagrey Waldrop
Crew — Transportation Coordinator: Michel Mollicone
Crew — Unit Publicist: Joe Everett
Crew — Video Assist Operator: Stephanie Girard Hamelin
Crew — Visual Effects Editor: Edo Brizio
Directing — Director: Mathieu Kassovitz
Directing — First Assistant Director: Jim Kaufman
Directing — Script Supervisor: Joanne T. Harwood
Directing — Second Assistant Director: Pierre Brassard
Directing — Third Assistant Director: Nadine Brassard
Editing — Color Timer: Dale E. Grahn
Editing — Dialogue Editor: Gloria D'Alessandro
Editing — Digital Intermediate: Jill Bogdanowicz
Editing — Editor: Yannick Kergoat
Editing — First Assistant Editor: Harold Parker
Editing — First Assistant Editor: Olivier Gourlay
Editing — Negative Cutter: Mo Henry
Lighting — Best Boy Electric: Christopher Kiso
Lighting — Electrician: Yves Arseneau
Lighting — Gaffer: Bernard Arseneau
Lighting — Lighting Technician: Daniel Dallaire
Lighting — Rigging Gaffer: Rene Guillard
Lighting — Rigging Grip: Brian O'Donnell
Production — Assistant Production Manager: Paula Jensen
Production — Associate Producer: Adam Kuhn
Production — Casting: Marci Liroff
Production — Casting Assistant: Shawn Roberts
Production — Casting Associate: Jamie Sparer Roberts
Production — Co-Producer: Melina Kevorkian
Production — Co-Producer: Richard Mirisch
Production — Executive In Charge Of Post Production: Daniel R. Chavez
Production — Executive Producer: Don Carmody
Production — Executive Producer: Gary Ungar
Production — Executive Producer: Steve Richards
Production — Line Producer: Jefferson Richard
Production — Local Casting: Andrea Kenyon
Production — Location Manager: Dominique Leroutier
Production — Producer: Joel Silver
Production — Producer: L. Levin
Production — Producer: Robert Zemeckis
Production — Producer: Susan Downey
Production — Production Accountant: James F. Breithaupt
Production — Production Coordinator: Maral Hassib
Production — Production Supervisor: Liz Amsden
Production — Researcher: Timur 'Taron' Baysal
Production — Unit Manager: Francis Choquette
Production — Unit Production Manager: Micheline Garant
Sound — Additional Sound Re-Recording Mixer: Marshall Garlington
Sound — ADR Editor: Denise Horta
Sound — ADR Supervisor: Juno J. Ellis
Sound — Assistant Sound Editor: Del Martin
Sound — Boom Operator: Maxime Ferland
Sound — First Assistant Sound Editor: Christopher Alba
Sound — Foley Editor: Ed Callahan
Sound — Music Editor: Amanda Goodpaster
Sound — Musician: Bart Samolis
Sound — Orchestrator: Damon Intrabartolo
Sound — Original Music Composer: John Ottman
Sound — Sound Designer: Takeo Ogawa
Sound — Sound Editor: Michael Camello
Sound — Sound Effects Editor: Paul Berolzheimer
Sound — Sound Mixer: Patrick Rousseau
Sound — Sound Re-Recording Mixer: Gary Alexander
Sound — Supervising Dialogue Editor: Lucy Coldsnow-Smith
Sound — Supervising Sound Editor: Richard Adrian
Visual Effects — Digital Compositors: Votch Levi
Visual Effects — Special Effects Supervisor: Louis Craig
Visual Effects — Visual Effects: Steven Fagerquist
Visual Effects — Visual Effects Coordinator: Phillip Moses
Visual Effects — Visual Effects Producer: Vicki Galloway-Weimer
Visual Effects — Visual Effects Supervisor: Cosmas Paul Bolger Jr.
Writing — Screenplay: Sebastian Gutierrez
Writing — Storyboard: Geof Isherwood