Information On The Film Inside Out
All about the movie Inside Out. Get information on the motion picture Inside Out including; genre, directors, producers, stars, supporting actors, ratings, studios and more at IconMovies.net.
Inside Out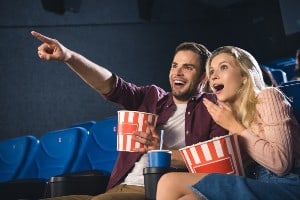 Inside Out Film Information
What's The Movie Inside Out About?
Growing up can be a bumpy road, and it's no exception for Riley, who is uprooted from her Midwest life when her father starts a new job in San Francisco. Like all of us, Riley is guided by her emotions - Joy, Fear, Anger, Disgust and Sadness. The emotions live in Headquarters, the control center inside Riley's mind, where they help advise her through everyday life. As Riley and her emotions struggle to adjust to a new life in San Francisco, turmoil ensues in Headquarters. Although Joy, Riley's main and most important emotion, tries to keep things positive, the emotions conflict on how best to navigate a new city, house and school.
Meet the little voices inside your head.
What's The Genre Of The Inside Out Movie?
Genres: Animation, Comedy, Drama, Family
Who Stars In The Inside Out Movie?
When Was The Motion Picture Inside Out Released?
What's The Runtime Of The Inside Out Movie?
How Popular Is The Inside Out Movie?
Popularity Rating: 23.986
What Studio(s) Produced The Inside Out Film?
Who Was On The Cast Of The Motion Picture Inside Out?
Who Was On The Crew Of Inside Out The Movie?
Art — Art Direction: Bert Berry
Art — Conceptual Design: Kevin Dart
Art — Production Design: Ralph Eggleston
Camera — Director of Photography: Patrick Lin
Crew — Additional Dialogue: Amy Poehler
Crew — Additional Dialogue: Bill Hader
Crew — Additional Dialogue: Bob Peterson
Crew — Additional Dialogue: Vince Caro
Crew — Additional Writing: Michael Arndt
Crew — Additional Writing: Simon Rich
Crew — Lighting Camera: Kim White
Crew — Other: Roger Gould
Crew — Projection: John Hazelton
Crew — Thanks: John Mulaney
Crew — Thanks: Katherine Sarafian
Crew — Thanks: Lindsey Collins
Crew — Thanks: Lorne Michaels
Crew — Thanks: Rashida Jones
Crew — Thanks: Tom McCarthy
Directing — Director: Pete Docter
Directing — Layout: Derek Williams
Directing — Layout: Mark Sanford
Editing — Color Timer: Mark Dinicola
Editing — Editor: Kevin Nolting
Editing — Editorial Services: Kevin Rose-Williams
Production — Associate Producer: Mark Nielsen
Production — Casting: Kevin Reher
Production — Casting: Mickie McGowan
Production — Casting: Natalie Lyon
Production — Executive Producer: Andrew Stanton
Production — Executive Producer: John Lasseter
Production — Producer: Jonas Rivera
Sound — Additional Soundtrack: Xavier Atencio
Sound — Foley: Thom Brennan
Sound — Original Music Composer: Michael Giacchino
Sound — Sound Designer: Ren Klyce
Sound — Sound Effects Editor: Jeremy Bowker
Sound — Sound Re-Recording Mixer: Michael Semanick
Sound — Sound Re-Recording Mixer: Tom Johnson
Visual Effects — Animation: Nelson 'Rey' Bohol
Visual Effects — Animation: Ricky Nierva
Visual Effects — Animation: Shad Bradbury
Visual Effects — Modeling: Andrew Schmidt
Visual Effects — Visual Effects: Andrew Jimenez
Visual Effects — Visual Effects Supervisor: Bob Whitehill
Writing — Original Story: Ronnie del Carmen
Writing — Screenplay: Josh Cooley
Writing — Screenplay: Meg LeFauve
Writing — Screenplay: Pete Docter
Writing — Story: Pete Docter