Information On The Film ParaNorman
All about the movie ParaNorman. Get information on the motion picture ParaNorman including; genre, directors, producers, stars, supporting actors, ratings, studios and more at IconMovies.net.
ParaNorman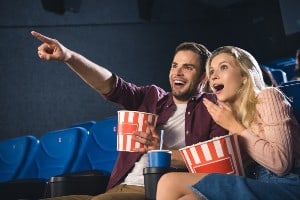 ParaNorman Film Information
What's The Movie ParaNorman About?
In the town of Blithe Hollow, Norman Babcock is a boy who can speak to the dead, but no one besides his eccentric new friend, Neil, believes his ability is real. One day, Norman's estranged eccentric uncle tells him of an important annual ritual he must take up to protect the town from an curse cast by a witch it condemned centuries ago. Eventually, Norman decides to cooperate, but things don't go according to plan. Now, a magic storm of the witch threatens Blithe Hollow as the accursed dead rise. Together with unexpected new companions, Norman struggles to save his town, only to discover the horrific truth of the curse. With that insight, Norman must resolve the crisis for good as only he can.
It's all fun and games until someone raises the dead.
What's The Genre Of The ParaNorman Movie?
Genres: Adventure, Animation, Comedy, Family
Who Stars In The ParaNorman Movie?
When Was The Motion Picture ParaNorman Released?
What's The Runtime Of The ParaNorman Movie?
How Popular Is The ParaNorman Movie?
Popularity Rating: 10.425
What Studio(s) Produced The ParaNorman Film?
Who Was On The Cast Of The Motion Picture ParaNorman?
Who Was On The Crew Of ParaNorman The Movie?
Art — Art Department Manager: Heidi Smith
Art — Art Direction: Ross Stewart
Art — Production Design: Nelson Lowry
Camera — Director of Photography: Tristan Oliver
Directing — Director: Chris Butler
Directing — Director: Sam Fell
Editing — Editor: Christopher Murrie
Editing — Editorial Coordinator: Kevin Smith
Production — Casting: Allison Jones
Production — Producer: Arianne Sutner
Production — Producer: Travis Knight
Sound — Music: Jon Brion
Sound — Orchestrator: Kevin Kaska
Visual Effects — Animation: Aaron Sorenson
Visual Effects — Animation: Adam Fisher
Visual Effects — Animation: Andy Bailey
Visual Effects — Animation: Andy Biddle
Visual Effects — Animation: Anthony Scott
Visual Effects — Animation: Anthony Straus
Visual Effects — Animation: Brian Addison Elliot
Visual Effects — Animation: Brian Leif Hansen
Visual Effects — Animation: Cesar Diaz Melendez
Visual Effects — Animation: Chris Tootell
Visual Effects — Animation: Craig Atkinson
Visual Effects — Animation: Dan MacKenzie
Visual Effects — Animation: Dan Ramsay
Visual Effects — Animation: Daniel Alderson
Visual Effects — Animation: Darlie Brewster
Visual Effects — Animation: David Pugh
Visual Effects — Animation: David Vandervoort
Visual Effects — Animation: Eric A. Urban
Visual Effects — Animation: Florian Perinelle
Visual Effects — Animation: Gabe Sprenger
Visual Effects — Animation: Jan-Erik Maas
Visual Effects — Animation: Jason Stalman
Visual Effects — Animation: Jeff Riley
Visual Effects — Animation: Jerry Svoboda
Visual Effects — Animation: Joseph E. Merideth
Visual Effects — Animation: Justin M. Rasch
Visual Effects — Animation: Kevin MacLean
Visual Effects — Animation: Kevin Walton
Visual Effects — Animation: Kim Blanchette
Visual Effects — Animation: Kim Slate
Visual Effects — Animation: Kyle Bell
Visual Effects — Animation: Ludovic Berardo
Visual Effects — Animation: Malcolm Lamont
Visual Effects — Animation: Mike Hollenbeck
Visual Effects — Animation: Patrick Weinberg
Visual Effects — Animation: Payton Curtis
Visual Effects — Animation: Phil Dale
Visual Effects — Animation: Philippe Tardif
Visual Effects — Animation: Rachel Larsen
Visual Effects — Animation: Rachelle Lambden
Visual Effects — Animation: Rob Bekuhrs
Visual Effects — Animation: Suzanne Twining
Visual Effects — Animation: Travis Knight
Visual Effects — Animation: Will Becher
Visual Effects — Animation Supervisor: Brad Schiff
Visual Effects — Animation Supervisor: Oliver Jones
Visual Effects — Animation Supervisor: Peg Serena
Visual Effects — Visual Development: Eric Wachtman
Visual Effects — Visual Effects: Susanna Luck
Writing — Screenplay: Chris Butler
Writing — Storyboard: Brian Ormiston
Writing — Storyboard: Emanuela Cozzi
Writing — Storyboard: Graham Annable
Writing — Storyboard: John Hoffman
Writing — Storyboard: Julian Narino
Writing — Storyboard: Martin Asbury
Writing — Storyboard: Michael Schlingmann
Writing — Storyboard: Mike Smith
Writing — Storyboard: Ovi Nedelcu
Writing — Storyboard: Vera Brosgol