Information On The Film Pleasantville
All about the movie Pleasantville. Get information on the motion picture Pleasantville including; genre, directors, producers, stars, supporting actors, ratings, studios and more at IconMovies.net.
Pleasantville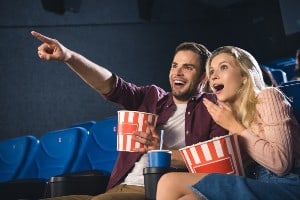 Pleasantville Film Information
What's The Movie Pleasantville About?
Geeky teenager David and his popular twin sister, Jennifer, get sucked into the black-and-white world of a 1950s TV sitcom called "Pleasantville," and find a world where everything is peachy keen all the time. But when Jennifer's modern attitude disrupts Pleasantville's peaceful but boring routine, she literally brings color into its life.
Nothing is as simple as black and white.
What's The Genre Of The Pleasantville Movie?
Genres: Comedy, Drama, Fantasy
Who Stars In The Pleasantville Movie?
When Was The Motion Picture Pleasantville Released?
Released: September 17, 1998
What's The Runtime Of The Pleasantville Movie?
How Popular Is The Pleasantville Movie?
Popularity Rating: 11.087
What Studio(s) Produced The Pleasantville Film?
Who Was On The Cast Of The Motion Picture Pleasantville?
Who Was On The Crew Of Pleasantville The Movie?
Art — Art Department Coordinator: Ashley Burnham
Art — Art Direction: Dianne Wager
Art — Construction Coordinator: Dave DeGaetano
Art — Production Design: Jeannine Oppewall
Art — Set Decoration: Jay Hart
Art — Supervising Art Director: William Arnold
Camera — Camera Operator: Henry Cline
Camera — Camera Operator: Ken Ferris
Camera — Camera Operator: Lawrence Karman
Camera — Director of Photography: John Lindley
Camera — Still Photographer: Ralph Nelson
Costume & Make-Up — Assistant Costume Designer: Lisa Tomczeszyn
Costume & Make-Up — Costume Design: Judianna Makovsky
Costume & Make-Up — Costume Supervisor: Eric H. Sandberg
Costume & Make-Up — Key Hair Stylist: Carolyn Elias
Costume & Make-Up — Makeup Artist: Susan A. Cabral
Crew — Digital Effects Supervisor: Thomas J. Smith
Crew — Special Effects Coordinator: Eric Rylander
Crew — Visual Effects Editor: Logan Breit
Directing — Director: Gary Ross
Editing — Editor: William Goldenberg
Lighting — Gaffer: Bruce McCleery
Lighting — Rigging Gaffer: Christopher Prampin
Lighting — Rigging Gaffer: Jeffrey P. Soderberg
Lighting — Rigging Gaffer: Patti Lee
Lighting — Rigging Grip: Craig Doobie
Lighting — Rigging Grip: Joseph Graham
Production — Casting: Debra Zane
Production — Casting: Ellen Lewis
Production — Producer: Jon Kilik
Production — Producer: Steven Soderbergh
Sound — Music Editor: Bruno Coon
Sound — Music Editor: James Flamberg
Sound — Music Editor: Jay B. Richardson
Sound — Music Supervisor: Bonnie Greenberg
Sound — Original Music Composer: Randy Newman
Visual Effects — Visual Effects Producer: Estee Chandler
Visual Effects — Visual Effects Producer: Janette Shew
Visual Effects — Visual Effects Supervisor: Chris Watts
Writing — Screenplay: Gary Ross