Information On The Film Rio Bravo
All about the movie Rio Bravo. Get information on the motion picture Rio Bravo including; genre, directors, producers, stars, supporting actors, ratings, studios and more at IconMovies.net.
Rio Bravo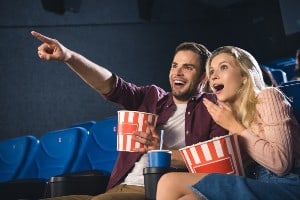 Rio Bravo Film Information
What's The Movie Rio Bravo About?
The sheriff of a small town in southwest Texas must keep custody of a murderer whose brother, a powerful rancher, is trying to help him escape. After a friend is killed trying to muster support for him, he and his deputies - a disgraced drunk and a cantankerous old cripple - must find a way to hold out against the rancher's hired guns until the marshal arrives. In the meantime, matters are complicated by the presence of a young gunslinger - and a mysterious beauty who just came in on the last stagecoach.
They fought back to back...No quarter given...No quarter asked...No way in...No way out...of Rio Bravo
What's The Genre Of The Rio Bravo Movie?
Who Stars In The Rio Bravo Movie?
When Was The Motion Picture Rio Bravo Released?
What's The Runtime Of The Rio Bravo Movie?
How Popular Is The Rio Bravo Movie?
Popularity Rating: 10.847
What Studio(s) Produced The Rio Bravo Film?
Who Was On The Cast Of The Motion Picture Rio Bravo?
Who Was On The Crew Of Rio Bravo The Movie?
Art — Art Direction: Leo K. Kuter
Art — Set Decoration: Ralph S. Hurst
Camera — Director of Photography: Russell Harlan
Camera — First Assistant Camera: Terry K. Meade
Costume & Make-Up — Costume Design: Marjorie Best
Costume & Make-Up — Makeup Artist: Gordon Bau
Crew — Stunt Coordinator: Yakima Canutt
Crew — Stunts: Dean Smith
Crew — Stunts: Jack N. Young
Directing — Assistant Director: Paul Helmick
Directing — Director: Howard Hawks
Editing — Editor: Folmar Blangsted
Production — Producer: Howard Hawks
Sound — Orchestrator: George Parrish
Sound — Orchestrator: Maurice De Packh
Sound — Original Music Composer: Dimitri Tiomkin
Sound — Sound Designer: Robert B. Lee
Writing — Author: B.H. McCampbell
Writing — Screenplay: Jules Furthman
Writing — Screenplay: Leigh Brackett