Information On The Film Romantics Anonymous
All about the movie Romantics Anonymous. Get information on the motion picture Romantics Anonymous including; genre, directors, producers, stars, supporting actors, ratings, studios and more at IconMovies.net.
Romantics Anonymous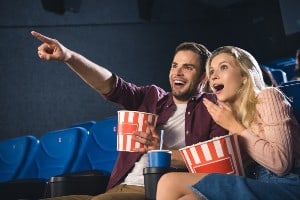 Romantics Anonymous Film Information
What's The Movie Romantics Anonymous About?
What happens when a man and a woman share a common passion? They fall in love. And this is what happens to Jean-René, the boss of a small chocolate factory, and Angélique, a gifted chocolate maker he has just hired. What occurs when a highly emotional man meets a highly emotional woman? They fall in love, and this is what occurs to Jean-René and Angélique who share the same handicap. But being pathologically timid does not make things easy for them. So whether they will manage to get together, join their solitudes and live happily ever after is a guessing matter.
What's The Genre Of The Romantics Anonymous Movie?
Genres: Comedy, Drama, Romance
Who Stars In The Romantics Anonymous Movie?
When Was The Motion Picture Romantics Anonymous Released?
Released: December 22, 2010
What's The Runtime Of The Romantics Anonymous Movie?
How Popular Is The Romantics Anonymous Movie?
Popularity Rating: 10.243
What Studio(s) Produced The Romantics Anonymous Film?
Angoa-Agicoa, Canal+, Casa Kafka Pictures, Centre National de la Cinematographie (CNC), CineCinema, Cinemage 4, Climax Films, Dexia, France 3 Cinema, France Television, La Banque Postale Image 3, Le Tax Shelter du Gouvernement Federal de Belgique, Media Programme of the European Community, Movie Tax Shelter Empowered by Dexia, Pan-Europeenne, Procirep, Radio Television Belge Francophone (RTBF), Rhone-Alpes Cinema, StudioCanal, Uni Etoile 7
Belgium, France
Who Was On The Cast Of The Motion Picture Romantics Anonymous?
Who Was On The Crew Of Romantics Anonymous The Movie?
Art — Painter: Francoise Rouge
Art — Painter: Martina Seeber
Art — Painter: Pauline Bouvet
Art — Production Design: Sylvie Olive
Camera — Director of Photography: Gerard Simon
Costume & Make-Up — Costume Design: Nathalie du Roscoat
Costume & Make-Up — Costume Design: Sophie le Breton
Directing — Director: Jean-Pierre Ameris
Production — Associate Producer: Arlette Zylberberg
Production — Casting: Tatiana Vialle
Production — Co-Producer: Olivier Rausin
Production — Producer: Nathalie Gastaldo
Production — Producer: Philippe Godeau
Production — Supervising Producer: Sebastian Schelenz
Sound — Original Music Composer: Pierre Adenot
Writing — Writer: Jean-Pierre Ameris
Writing — Writer: Philippe Blasband