Information On The Film Sabrina
All about the movie Sabrina. Get information on the motion picture Sabrina including; genre, directors, producers, stars, supporting actors, ratings, studios and more at IconMovies.net.
Sabrina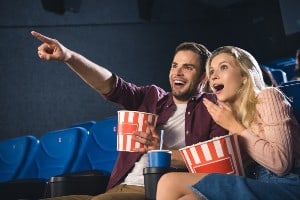 Sabrina Film Information
What's The Movie Sabrina About?
An ugly duckling having undergone a remarkable change, still harbors feelings for her crush: a carefree playboy, but not before his business-focused brother has something to say about it.
You are cordially invited to the most surprising merger of the year.
What's The Genre Of The Sabrina Movie?
Who Stars In The Sabrina Movie?
When Was The Motion Picture Sabrina Released?
Released: December 15, 1995
What's The Runtime Of The Sabrina Movie?
How Popular Is The Sabrina Movie?
What Studio(s) Produced The Sabrina Film?
Who Was On The Cast Of The Motion Picture Sabrina?
Who Was On The Crew Of Sabrina The Movie?
Art — Art Department Coordinator: Miriam Schapiro
Art — Art Direction: John Kasarda
Art — Production Design: Brian Morris
Art — Set Decoration: Amy Marshall
Art — Set Decoration: George DeTitta Jr.
Camera — Camera Operator: Giovanni Fiore Coltellacci
Camera — Director of Photography: Giuseppe Rotunno
Camera — Still Photographer: Brian Hamill
Camera — Still Photographer: Myles Aronowitz
Costume & Make-Up — Assistant Costume Designer: Juliet Polcsa
Costume & Make-Up — Assistant Costume Designer: Michelle Matland
Costume & Make-Up — Co-Costume Designer: Gary Jones
Costume & Make-Up — Costume Design: Ann Roth
Costume & Make-Up — Costume Supervisor: Donna Maloney
Costume & Make-Up — Hairstylist: Lynda Gurasich
Costume & Make-Up — Hairstylist: Stephen G. Bishop
Costume & Make-Up — Makeup Artist: Bernadette Mazur
Costume & Make-Up — Makeup Artist: Joseph A. Campayno
Costume & Make-Up — Makeup Artist: Peter Robb-King
Directing — Director: Sydney Pollack
Directing — Script Supervisor: Mary A. Kelly
Editing — Dialogue Editor: Adam Sawelson
Editing — Dialogue Editor: Barbara Issak
Editing — Dialogue Editor: Benjamin Beardwood
Editing — Editor: Fredric Steinkamp
Editing — First Assistant Editor: Karl F. Steinkamp
Production — Casting: David Rubin
Production — Casting Assistant: Bill Kaufman
Production — Casting Associate: Kate Dowd
Production — Casting Associate: Ronna Kress
Production — Executive Producer: Lindsay Doran
Production — Executive Producer: Ronald L. Schwary
Production — Location Manager: Joseph E. Iberti
Production — Location Manager: Sandrine Ageorges
Production — Producer: Scott Rudin
Production — Producer: Sydney Pollack
Production — Production Coordinator: Joanny Carpentier
Production — Production Coordinator: Katherine Kennedy
Production — Production Manager: Jean-Pierre Avice
Production — Production Manager: Ronald L. Schwary
Production — Production Supervisor: Thomas A. Imperato
Sound — Boom Operator: Andrew Schmetterling
Sound — Original Music Composer: John Williams
Sound — Sound Effects Editor: Joe Earle
Sound — Sound Effects Editor: Mitch Gettleman
Sound — Sound mixer: Danny Michael
Sound — Sound Re-Recording Mixer: Adam Jenkins
Sound — Sound Re-Recording Mixer: Chris Jenkins
Sound — Sound Re-Recording Mixer: Scott Millan
Sound — Supervising Sound Editor: J. Paul Huntsman
Sound — Supervising Sound Effects Editor: Myron Nettinga
Writing — Screenplay: Barbara Benedek
Writing — Screenplay: David Rayfiel