Information On The Film The Empire Strikes Back
All about the movie The Empire Strikes Back. Get information on the motion picture The Empire Strikes Back including; genre, directors, producers, stars, supporting actors, ratings, studios and more at IconMovies.net.
The Empire Strikes Back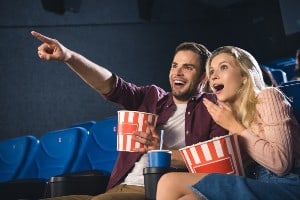 The Empire Strikes Back Film Information
What's The Movie The Empire Strikes Back About?
The epic saga continues as Luke Skywalker, in hopes of defeating the evil Galactic Empire, learns the ways of the Jedi from aging master Yoda. But Darth Vader is more determined than ever to capture Luke. Meanwhile, rebel leader Princess Leia, cocky Han Solo, Chewbacca, and droids C-3PO and R2-D2 are thrown into various stages of capture, betrayal and despair.
The Adventure Continues...
What's The Collection The The Empire Strikes Back Movie Belongs to?
What's The Genre Of The The Empire Strikes Back Movie?
Genres: Action, Adventure, Science Fiction
Who Stars In The The Empire Strikes Back Movie?
When Was The Motion Picture The Empire Strikes Back Released?
What's The Runtime Of The The Empire Strikes Back Movie?
How Popular Is The The Empire Strikes Back Movie?
Popularity Rating: 19.471
What Studio(s) Produced The The Empire Strikes Back Film?
Who Was On The Cast Of The Motion Picture The Empire Strikes Back?
Luke Skywalker Mark Hamill
Han Solo Harrison Ford
Princess Leia Carrie Fisher
Lando Calrissian Billy Dee Williams
C-3PO Anthony Daniels
Darth Vader David Prowse
R2-D2 Kenny Baker
Chewbacca Peter Mayhew
Yoda (Voice) Frank Oz
Darth Vader (Voice) James Earl Jones
Yoda (uncredited) Kathryn Mullen
Wendy Froud
Boba Fett Jeremy Bulloch
Boba Fett (voice) (uncredited) Jason Wingreen
Boba Fett (voice) Temuera Morrison
Emperor (voice) Clive Revill
Emperor Marjorie Eaton
Emperor Ian McDiarmid
Ben 'Obi-wan' Kenobi Alec Guinness
Lando's aide John Hollis
Chief Ugnaught Jack Purvis
Snow Creature Des Webb
Imperial Force General Veers Julian Glover
Imperial Force Admiral Piett Kenneth Colley
Rebel Force Major Derlin John Ratzenberger
Admiral Ozzel Michael Sheard
Captain Needa Michael Culver
Captain Lennox, Imperial Officer John Dicks
Bewil, an Imperial officer Milton Johns
Commander Nemet, an Imperial Officer Mark Jones
Cabbel, an Imperial Officer Oliver Maguire
Lieutenant Venka, an Imperial Officer Robin Scobey
General Carlist Rieekan, an Rebel Force Bruce Boa
Rebel pilot Zev Senesca (Rogue 2) Christopher Malcolm
Rebel Force Wedge (Rogue 3) Denis Lawson
Wes Janson, a Rebel Force (Wedge's Gunner) Ian Liston
Dak Ralter, a Rebel Force John Morton
Derek Klivian, a Rebel Force Hobbie (Rogue 4) Richard Oldfield
Cal Alder, a Rebel Force Deck Lieutenant Jack McKenzie
Rebel Force Head Controller Jerry Harte
Tamizander Rey, a Other Rebel Officer Norman Chancer
Jeroen Webb, a Other Rebel Officer Norwich Duff
Tigran Jamiro, Other Rebel Officer Ray Hassett
Toryn Farr, Other Rebel Officer Brigitte Kahn
Wyron Serper, Other Rebel Officer Burnell Tucker
Imperial Officer (uncredited) Bob Anderson
Stormtrooper (uncredited) Lightning Bear
Stormtrooper / Snowtrooper / Rebel Soldier / ... (uncredited) Richard Bonehill
Holographic Imperial Officer (uncredited) John Cannon
Officer M'kae (Captain Needa's Communications Officer) (uncredited) Mark Capri
Cloud City Guard (uncredited) Martin Dew
Snowtrooper Gunner (uncredited) Peter Diamond
Snowtrooper (uncredited) Stuart Fell
Snowtrooper (uncredited) Doug Robinson
Snowtrooper (uncredited) Tony Smart
Bossk / Bespin Security Guard (uncredited) Alan Harris
Extra (uncredited) Tiffany L. Kurtz
Rebel Pilot (uncredited) Mac McDonald
General McQuarrie (uncredited) Ralph McQuarrie
Stormtrooper / Imperial Comms Officer / Rebel Soldier (uncredited) Ralph Morse
Wampa (uncredited) Terry Richards
(voice, uncredited) Michael Santiago
Echo Base Trooper (uncredited) Treat Williams
Hoth Rebel Commander (uncredited) Shaun Curry
Stormtrooper/Snowtrooper Alan Austen
Stormtrooper/Snowtrooper Jim Dowdall
Stormtrooper/Snowtrooper Ian Durrant
Stormtrooper/Snowtrooper Tom Egeland
Stormtrooper/Snowtrooper Alan Flyng
Stormtrooper/Snowtrooper Chris Parsons
Stormtrooper/Snowtrooper Trevor Butterfield
Stormtrooper/Snowtrooper Christopher Bunn
Stormtrooper/Snowtrooper Quentin Pierre
Stormtrooper/Snowtrooper Keith Swaden
Wampa Howie Weed
Dengar Morris Bush
Who Was On The Crew Of The Empire Strikes Back The Movie?
Art — Art Direction: Alan Tomkins
Art — Art Direction: Harry Lange
Art — Art Direction: Leslie Dilley
Art — Production Design: Norman Reynolds
Art — Set Decoration: Michael Ford
Camera — Camera Operator: Paul Huston
Camera — Director of Photography: Peter Suschitzky
Camera — Still Photographer: George Whitear
Costume & Make-Up — Costume Design: John Mollo
Costume & Make-Up — Costume Supervisor: Tiny Nicholls
Costume & Make-Up — Makeup Artist: Nick Maley
Costume & Make-Up — Wardrobe Supervisor: Eileen Sullivan
Crew — Driver: Terry Pritchard
Crew — Makeup Effects: Phil Tippett
Crew — Special Effects: Brian Johnson
Crew — Special Effects: David H. Watkins
Crew — Stand In: Alan Harris
Crew — Stunt Coordinator: Peter Diamond
Crew — Stunts: Bob Anderson
Crew — Stunts: Doug Robinson
Crew — Stunts: Lightning Bear
Crew — Stunts: Stuart Fell
Crew — Stunts: Terry Richards
Crew — Stunts: Tony Smart
Directing — Assistant Director: David Tomblin
Directing — Assistant Director: Gary Kurtz
Directing — Assistant Director: Steve Lanning
Directing — Director: Irvin Kershner
Editing — Editor: George Lucas
Editing — Editor: Marcia Lucas
Editing — Editor: Paul Hirsch
Lighting — Gaffer: Laurie Shane
Production — Associate Producer: Jim Bloom
Production — Associate Producer: Robert Watts
Production — Casting: Bob Edmiston
Production — Casting: Irene Lamb
Production — Casting: Terry Liebling
Production — Executive Producer: George Lucas
Production — Producer: Gary Kurtz
Production — Producer: Howard G. Kazanjian
Production — Production Manager: Patricia Carr
Production — Production Supervisor: Bruce Sharman
Sound — Orchestrator: Herbert W. Spencer
Sound — Original Music Composer: John Williams
Sound — Sound Editor: Bonnie Koehler
Visual Effects — Animation: Phil Tippett
Visual Effects — Visual Effects: Ralph McQuarrie
Visual Effects — Visual Effects: Richard Edlund
Writing — Screenplay: Lawrence Kasdan
Writing — Screenplay: Leigh Brackett
Writing — Story: George Lucas