Information On The Film The Mermaid
All about the movie The Mermaid. Get information on the motion picture The Mermaid including; genre, directors, producers, stars, supporting actors, ratings, studios and more at IconMovies.net.
The Mermaid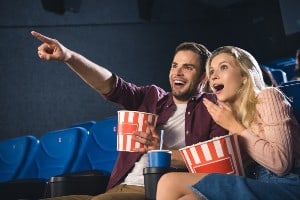 The Mermaid Film Information
What's The Movie The Mermaid About?
A playboy business tycoon, Liu Xuan, purchases the Green Gulf, a wildlife reserve, for a sea reclamation project, and uses sonar technology to get rid of the sea life in the area. Unknown to him, the Green Gulf is the home of merpeople, and the sonar has caused many of them to succumb to illness or die. Xuan's business ventures in the area are threatened when he crosses paths with the mermaid, Shan, who is sent to avenge her people.
Half Fish, Half Human, 100% Assassin
What's The Genre Of The The Mermaid Movie?
Genres: Comedy, Fantasy, Romance, Science Fiction
When Was The Motion Picture The Mermaid Released?
Released: February 8, 2016
What's The Runtime Of The The Mermaid Movie?
How Popular Is The The Mermaid Movie?
What Studio(s) Produced The The Mermaid Film?
Who Was On The Cast Of The Motion Picture The Mermaid?
Who Was On The Crew Of The Mermaid The Movie?
Crew — Makeup Effects: Laura Calvo
Directing — Director: Stephen Chow
Production — Co-Executive Producer: Yuan Cai
Production — Co-Executive Producer: Zhong-lun Ren
Production — Co-Producer: Yang Wei
Production — Executive Producer: La Peikang
Production — Executive Producer: Stephen Chow
Sound — Music: Wendy Zheng
Writing — Writer: Chan Hing-ka
Writing — Writer: Fung Chi-keung
Writing — Writer: Ho Miu-Kei
Writing — Writer: Ivy Kong
Writing — Writer: Lu Zheng-Yu
Writing — Writer: Si-Cheun Lee
Writing — Writer: Stephen Chow
Writing — Writer: Tsang Kan-Cheung