Information On The Film Thir13en Ghosts
All about the movie Thir13en Ghosts. Get information on the motion picture Thir13en Ghosts including; genre, directors, producers, stars, supporting actors, ratings, studios and more at IconMovies.net.
Thir13en Ghosts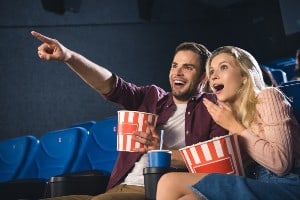 Thir13en Ghosts Film Information
What's The Movie Thir13en Ghosts About?
Arthur and his two children, Kathy and Bobby, inherit his Uncle Cyrus's estate: a glass house that serves as a prison to 12 ghosts. When the family, accompanied by Bobby's Nanny and an attorney, enter the house they find themselves trapped inside an evil machine "designed by the devil and powered by the dead" to open the Eye of Hell. Aided by Dennis, a ghost hunter, and his rival Kalina, a ghost rights activist out to set the ghosts free, the group must do what they can to get out of the house alive.
There are ghosts around us all the time. Most of them don't want to hurt us. But, there are exceptions...
What's The Genre Of The Thir13en Ghosts Movie?
Who Stars In The Thir13en Ghosts Movie?
When Was The Motion Picture Thir13en Ghosts Released?
Released: October 26, 2001
What's The Runtime Of The Thir13en Ghosts Movie?
How Popular Is The Thir13en Ghosts Movie?
What Studio(s) Produced The Thir13en Ghosts Film?
Who Was On The Cast Of The Motion Picture Thir13en Ghosts?
Arthur Kriticos Tony Shalhoub
Kalina Oretzia Embeth Davidtz
Dennis Rafkin Matthew Lillard
Kathy Kriticos Shannon Elizabeth
Damon Matthew Harrison
Robert 'Bobby' Kriticos Alec Roberts
Maggie Bess Rah Digga
Cyrus Kriticos F. Murray Abraham
Benjamin Moss JR Bourne
Cyrus' Assistant Jacob Rupp
Team Member Mike Crestejo
Team Member Aubrey Lee Culp
Team Member Charles Andre
Billy Michaels, The First Born Son Mikhael Speidel
Jimmy 'The Gambler' Gambino, The Torso Daniel Wesley
Susan LeGrow, The Bound Woman Laura Mennell
Jean Kriticos, The Withered Lover Kathryn Anderson
Dana Newman, The Angry Princess Shawna Loyer
Isabella Smith, The Pilgrimess Xantha Radley
Harold Shelburne, The Great Child C. Ernst Harth
Margaret Shelburne, The Dire Mother Laurie Soper
George Markley, The Hammer Herbert Duncanson
Ryan Kuhn, The Jackal Shayne Wyler
Breaker Mahoney, The Juggernaut John DeSantis
Royce Clayton, The Torn Prince Craig Olejnik
Who Was On The Crew Of Thir13en Ghosts The Movie?
Art — Art Department Coordinator: Gregory Dewar
Art — Art Direction: Don MacAulay
Art — Art Direction: Tim Beach
Art — Assistant Art Director: Geoff Wallace
Art — Construction Coordinator: Brian Shell
Art — Construction Foreman: Sam McMaster
Art — Painter: Mark N Tompkins
Art — Production Design: Sean Hargreaves
Art — Set Decoration: Dominique Fauquet-Lemaitre
Art — Set Designer: Andrew Li
Art — Set Designer: Eric Sundahl
Art — Set Designer: Lynn Christopher
Art — Set Designer: Mira Caveno
Art — Set Designer: Sheila Millar
Art — Set Dresser: Terri Bishop
Art — Supervising Art Director: Tim Beach
Camera — Additional Photography: Robert McLachlan
Camera — Camera Operator: Andrew D. Wilson
Camera — Camera Operator: Tom Fillingham
Camera — Director of Photography: Gale Tattersall
Camera — Dolly Grip: Gil Forrester
Camera — First Assistant Camera: Greg Beaton
Camera — Grip: Michael Cox
Camera — Key Grip: Dillard Brinson
Camera — Steadicam Operator: Daniel Sauve
Camera — Still Photographer: Alan Markfield
Costume & Make-Up — Assistant Costume Designer: Cindy L. Russell
Costume & Make-Up — Costume Design: Jenni Gullett
Costume & Make-Up — Hairstylist: Sandy Monesmith
Costume & Make-Up — Key Hair Stylist: Sherry Linder-Gygli
Costume & Make-Up — Key Makeup Artist: Victoria Down
Costume & Make-Up — Makeup Artist: Bev Wright
Costume & Make-Up — Makeup Artist: Lyn Defehr
Costume & Make-Up — Makeup Designer: Scott Patton
Costume & Make-Up — Seamstress: Olga Toliusis
Costume & Make-Up — Set Costumer: Shane Deschamps
Costume & Make-Up — Wigmaker: Stacey Butterworth
Crew — Carpenter: David Weber
Crew — CG Supervisor: Kenji Sweeney
Crew — Craft Service: Nancy Kress
Crew — Driver: John Franta
Crew — Makeup Effects: Alan Tuskes
Crew — Makeup Effects: Bernie Wrightson
Crew — Makeup Effects: Bill Terezakis
Crew — Makeup Effects: Brian Rae
Crew — Makeup Effects: Bruce D. Mitchell
Crew — Makeup Effects: Chad Atkinson
Crew — Makeup Effects: Charles Porlier
Crew — Makeup Effects: Chiz Hasegawa
Crew — Makeup Effects: Chris Cera
Crew — Makeup Effects: Chris Ceraso
Crew — Makeup Effects: Christopher Mark Pinhey
Crew — Makeup Effects: Craig Reardon
Crew — Makeup Effects: David Perteet
Crew — Makeup Effects: Don Lanning
Crew — Makeup Effects: Gregory Nicotero
Crew — Makeup Effects: James Hall
Crew — Makeup Effects: Jim McPherson
Crew — Makeup Effects: Kamar Bitar
Crew — Makeup Effects: Lance Gilmer
Crew — Makeup Effects: Leanne Rae Podavin
Crew — Makeup Effects: Linda Bastin
Crew — Makeup Effects: Mark Tavares
Crew — Makeup Effects: Mike Fields
Crew — Makeup Effects: Monique Venier
Crew — Makeup Effects: Moto Hata
Crew — Makeup Effects: Norman Cabrera
Crew — Makeup Effects: Patricia Murray
Crew — Makeup Effects: Rachel Emmers
Crew — Makeup Effects: Robert Kurtzman
Crew — Makeup Effects: Ron Pipes
Crew — Makeup Effects: Shannon Shea
Crew — Makeup Effects: Stan Edmonds
Crew — Makeup Effects: Steven Hartman
Crew — Post Production Consulting: Harold Parker
Crew — Property Master: Dean Eilertson
Crew — Security: Robert Milicevic
Crew — Special Effects Coordinator: Charles Belardinelli
Crew — Stunt Coordinator: Ken Kirzinger
Crew — Transportation Captain: Clint Wilcox
Crew — Transportation Coordinator: Ron James
Crew — Unit Publicist: Julia Frittaion
Crew — Visual Effects Editor: Roy Berkowitz
Directing — Assistant Director: Ashley Bell
Directing — Director: Steve Beck
Directing — First Assistant Director: Matt Earl Beesley
Directing — Script Supervisor: Kimi Webber
Directing — Second Assistant Director: David Klohn
Directing — Third Assistant Director: James Bitonti
Editing — Color Timer: Jeff Smithwick
Editing — Editor: Derek Brechin
Editing — Editor: Edward A. Warschilka
Editing — Editor: Omar Daher
Lighting — Best Boy Electric: Lee Miller
Lighting — Chief Lighting Technician: James Dillinger
Lighting — Lighting Technician: Cam Esau
Lighting — Rigging Gaffer: Jarrod Tiffin
Lighting — Rigging Grip: Brett Peterson
Production — Assistant Production Coordinator: Brett Davies
Production — Casting: Christine Sheaks
Production — Casting Associate: Rebecca Gushin
Production — Co-Producer: Richard Mirisch
Production — Co-Producer: Terry Castle
Production — Executive In Charge Of Post Production: Daniel R. Chavez
Production — Executive In Charge Of Production: Bill Draper
Production — Executive Producer: Dan Cracchiolo
Production — Executive Producer: Steve Richards
Production — Local Casting: Lynne Carrow
Production — Location Manager: Kirk Johns
Production — Producer: Gilbert Adler
Production — Producer: Joel Silver
Production — Producer: Robert Zemeckis
Production — Production Accountant: Alan J. Lam
Production — Production Coordinator: Yvonne Melville
Production — Unit Production Manager: Ron French
Sound — ADR & Dubbing: Rick Canelli
Sound — Boom Operator: Dave Griffiths
Sound — Conductor: Adam Stern
Sound — First Assistant Sound Editor: Nancy Barker
Sound — Foley Editor: Andrew Lackey
Sound — Music Editor: Tommy Lockett
Sound — Original Music Composer: John Frizzell
Sound — Production Sound Mixer: Patrick Ramsay
Sound — Sound Designer: Dane A. Davis
Sound — Sound Editor: Dane A. Davis
Sound — Sound Effects Designer: Richard Adrian
Sound — Sound Effects Editor: Richard Adrian
Sound — Sound Re-Recording Mixer: David E. Campbell
Sound — Supervising Dialogue Editor: Stephanie Flack
Sound — Supervising Sound Editor: Julia Evershade
Visual Effects — 3D Artist: Michael Addabbo
Visual Effects — Visual Effects Coordinator: Tiffany Smith
Visual Effects — Visual Effects Producer: Paul Clemente
Visual Effects — Visual Effects Supervisor: Dan Glass
Writing — Screenplay: Benjamin Carr
Writing — Screenplay: Richard D'Ovidio
Writing — Story: Robb White
Writing — Storyboard: Ling Yang