Information On The Film Troy
All about the movie Troy. Get information on the motion picture Troy including; genre, directors, producers, stars, supporting actors, ratings, studios and more at IconMovies.net.
Troy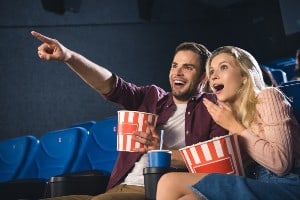 Troy Film Information
What's The Movie Troy About?
In year 1250 B.C. during the late Bronze age, two emerging nations begin to clash. Paris, the Trojan prince, convinces Helen, Queen of Sparta, to leave her husband Menelaus, and sail with him back to Troy. After Menelaus finds out that his wife was taken by the Trojans, he asks his brother Agamemnom to help him get her back. Agamemnon sees this as an opportunity for power. So they set off with 1,000 ships holding 50,000 Greeks to Troy. With the help of Achilles, the Greeks are able to fight the never before defeated Trojans.
For passion. For honor. For destiny. For victory. For love.
What's The Genre Of The Troy Movie?
Genres: Adventure, Drama, War
Who Stars In The Troy Movie?
When Was The Motion Picture Troy Released?
What's The Runtime Of The Troy Movie?
How Popular Is The Troy Movie?
Popularity Rating: 15.387
What Studio(s) Produced The Troy Film?
Who Was On The Cast Of The Motion Picture Troy?
Who Was On The Crew Of Troy The Movie?
Art — Art Department Assistant: Eva Kuntz
Art — Art Department Coordinator: Kirstie Stephenson
Art — Art Direction: Adam O'Neill
Art — Art Direction: Andy Nicholson
Art — Art Direction: Jon Billington
Art — Art Direction: Julian Ashby
Art — Art Direction: Marco Niro
Art — Assistant Art Director: Anthony Caron-Delion
Art — Greensman: Tim Lanning
Art — Location Scout: Peter Martorano
Art — Painter: Jamie Shelley
Art — Production Design: Nigel Phelps
Art — Sculptor: Darren Fitzsimons
Art — Set Decoration: Anna Pinnock
Art — Set Decoration: Peter Young
Art — Standby Painter: Charles Cottrell
Art — Supervising Art Director: John King
Art — Supervising Art Director: Kevin Phipps
Art — Supervising Art Director: Leslie Tomkins
Camera — Camera Operator: Paul Bond
Camera — Director of Photography: Roger Pratt
Camera — First Assistant Camera: John M. Barbour
Camera — Grip: David Appleby
Camera — Helicopter Camera: Ron Goodman
Camera — Steadicam Operator: Graham Hall
Camera — Steadicam Operator: Peter Wignall
Camera — Still Photographer: Alex Bailey
Costume & Make-Up — Assistant Costume Designer: Frank Gardiner
Costume & Make-Up — Costume Design: Bob Ringwood
Costume & Make-Up — Costume Supervisor: Graham Churchyard
Costume & Make-Up — Hairstylist: Orla Carrol
Costume & Make-Up — Key Hair Stylist: Aldo Signoretti
Costume & Make-Up — Makeup Artist: Lynda Armstrong
Costume & Make-Up — Prosthetic Supervisor: Nik Dorning
Costume & Make-Up — Seamstress: Gina Bonello
Costume & Make-Up — Set Costumer: Ali Lammari
Costume & Make-Up — Set Dressing Artist: Claire Levinson
Crew — Additional Music: Gabriel Yared
Crew — Armorer: Luca Giampaoli
Crew — Carpenter: Darryl Carter
Crew — CG Supervisor: Gary Brozenich
Crew — Chef: Massimo Zei
Crew — Dialect Coach: Roisin Carty
Crew — Driver: Ernest Gauci
Crew — Loader: Ryan Taggart
Crew — Motion Capture Artist: Gary Roberts
Crew — Poem: Homer
Crew — Post Production Supervisor: Marianne Jenkins
Crew — Production Controller: Andy Birmingham
Crew — Production Intern: Ulrich Schwarz
Crew — Projection: Tina Canny
Crew — Property Master: Terry Wells
Crew — Propmaker: Peter Hawkins
Crew — Scenic Artist: Stuart Clark
Crew — Second Unit Cinematographer: Simon Crane
Crew — Security: David Lindsay
Crew — Sequence Supervisor: Steve Moncur
Crew — Set Medic: Antonio Islas
Crew — Set Production Assistant: Mariana Acuna Acosta
Crew — Software Engineer: Piotr Stanczyk
Crew — Special Effects Coordinator: Andrea Williams
Crew — Stunt Coordinator: Simon Crane
Crew — Stunts: Steve Abela
Crew — Transportation Coordinator: John Atkins
Crew — Unit Publicist: Rob Harris
Crew — Utility Stunts: Vesselin Todorov-Vinnie
Crew — Visual Effects Editor: Christopher Learmonth
Directing — Assistant Director: Javier Clave
Directing — Director: Wolfgang Petersen
Directing — Script Supervisor: Anna Worley
Editing — Color Timer: John Ensby
Editing — Dialogue Editor: Howard Halsall
Editing — Editor: Peter Honess
Editing — First Assistant Editor: Jane Winkles
Lighting — Best Boy Electric: Michael Chambers
Lighting — Electrician: Dave Brennan
Lighting — Gaffer: Chuck Finch
Lighting — Lighting Artist: Will Broadbent
Lighting — Lighting Supervisor: Alec Knox
Lighting — Rigging Gaffer: Wick Finch
Production — Associate Producer: Barbara Huber
Production — Casting: Lucinda Syson
Production — Casting Associate: Michelle Lewitt
Production — Co-Producer: Winston Azzopardi
Production — Location Manager: Driss Benchiba
Production — Producer: Colin Wilson
Production — Producer: Diana Rathbun
Production — Producer: Wolfgang Petersen
Production — Production Accountant: Helen Medrano
Production — Production Coordinator: Khalid Banoujaafar
Production — Production Manager: Ian Hickinbotham
Production — Production Supervisor: Zakaria Alaoui
Production — Publicist: Ruben Malaret
Production — Unit Manager: Aneta Cebula-Hickinbotham
Production — Unit Production Manager: Steve Harding
Sound — Boom Operator: Jaya Bishop
Sound — Dolby Consultant: Mark Kenna
Sound — First Assistant Sound Editor: Alistair Hawkins
Sound — Foley: Harry Barnes
Sound — Music Editor: Dick Bernstein
Sound — Music Editor: Ramiro Belgardt
Sound — Orchestrator: Conrad Pope
Sound — Orchestrator: Edward Karam
Sound — Orchestrator: Jon Kull
Sound — Orchestrator: Randy Kerber
Sound — Original Music Composer: James Horner
Sound — Production Sound Mixer: Tony Dawe
Sound — Sound Editor: Matt Grimes
Sound — Sound Effects Editor: Christopher Assells
Sound — Sound Mixer: Ed Colyer
Sound — Sound Re-Recording Mixer: David E. Campbell
Sound — Supervising Sound Editor: Martin Cantwell
Visual Effects — 3D Supervisor: Chas Cash
Visual Effects — Digital Compositors: Lyse Beck
Visual Effects — I/O Supervisor: Oliver Faldo
Visual Effects — Special Effects Supervisor: Alexander Gunn
Visual Effects — Visual Effects: Rohan Claassen
Visual Effects — Visual Effects Coordinator: Laya Armian
Visual Effects — Visual Effects Producer: Alex Bicknell
Visual Effects — Visual Effects Supervisor: Huseyin Caner
Writing — Author: Homer
Writing — Creative Producer: Enfys Dickinson
Writing — Screenplay: David Benioff
Writing — Storyboard: Martin Asbury