Information On The Film Twelve Monkeys
All about the movie Twelve Monkeys. Get information on the motion picture Twelve Monkeys including; genre, directors, producers, stars, supporting actors, ratings, studios and more at IconMovies.net.
Twelve Monkeys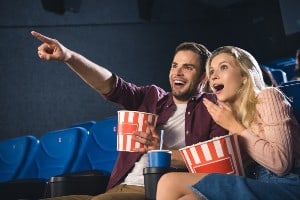 Twelve Monkeys Film Information
What's The Movie Twelve Monkeys About?
In the year 2035, convict James Cole reluctantly volunteers to be sent back in time to discover the origin of a deadly virus that wiped out nearly all of the earth's population and forced the survivors into underground communities. But when Cole is mistakenly sent to 1990 instead of 1996, he's arrested and locked up in a mental hospital. There he meets psychiatrist Dr. Kathryn Railly, and patient Jeffrey Goines, the son of a famous virus expert, who may hold the key to the mysterious rogue group, the Army of the 12 Monkeys, thought to be responsible for unleashing the killer disease.
The future is history.
What's The Genre Of The Twelve Monkeys Movie?
Genres: Mystery, Science Fiction, Thriller
Who Stars In The Twelve Monkeys Movie?
When Was The Motion Picture Twelve Monkeys Released?
Released: December 29, 1995
What's The Runtime Of The Twelve Monkeys Movie?
How Popular Is The Twelve Monkeys Movie?
Popularity Rating: 12.297
What Studio(s) Produced The Twelve Monkeys Film?
Who Was On The Cast Of The Motion Picture Twelve Monkeys?
Who Was On The Crew Of Twelve Monkeys The Movie?
Art — Art Department Coordinator: Lara Kelly
Art — Art Direction: William Ladd Skinner
Art — Assistant Art Director: Kevin Ishioka
Art — Assistant Art Director: Robert LaPrell
Art — Assistant Art Director: Tim Galvin
Art — Assistant Property Master: Scott Maginnis
Art — Construction Coordinator: Steven Lane Ewing
Art — Construction Foreman: Thomas Turnbull
Art — Greensman: Larry Misselhorn
Art — Leadman: Carl Catanese
Art — Leadman: John D. Kretschmer
Art — Location Scout: Charley Armstrong
Art — Painter: Paul A. Minitello
Art — Production Design: Jeffrey Beecroft
Art — Production Illustrator: Matt Codd
Art — Set Decoration: Crispian Sallis
Art — Set Dresser: Kate Bartouldus
Art — Standby Painter: Wayne Smith
Art — Title Designer: Penny Causer
Camera — Camera Operator: Craig Haagensen
Camera — Camera Operator: Kyle Rudolph
Camera — Camera Operator: Peter Norman
Camera — Director of Photography: Roger Pratt
Camera — Dolly Grip: Patrick McGrath
Camera — First Assistant Camera: Blackford 'Boots' Shelton
Camera — First Assistant Camera: Vinnie Gerardo
Camera — Grip: Brian Snell
Camera — Grip: Lee Shapira
Camera — Grip: Rhett Bloomquist
Camera — Grip: William Jones
Camera — Key Grip: Mike Miller
Camera — Still Photographer: Phillip V. Caruso
Costume & Make-Up — Assistant Costume Designer: B.J. Rogers
Costume & Make-Up — Costume Design: Julie Weiss
Costume & Make-Up — Costume Supervisor: Eric H. Sandberg
Costume & Make-Up — Hair Designer: Christine Beveridge
Costume & Make-Up — Hairstylist: Christina Bartolucci
Costume & Make-Up — Hairstylist: William A. Kohout
Costume & Make-Up — Key Hair Stylist: Peggy Nicholson
Costume & Make-Up — Makeup Artist: Allen Weisinger
Costume & Make-Up — Wardrobe Supervisor: Melissa Stanton
Crew — Animal Coordinator: Jim Clubb
Crew — Carpenter: Gary Pugh
Crew — Carpenter: Glen Foster
Crew — Carpenter: Le Hoang
Crew — Carpenter: Mark Kendig
Crew — Carpenter: Paul Maiello
Crew — Carpenter: Scott T. Pina
Crew — Carpenter: Ted Lubonovich II
Crew — Carpenter: Wesley Goodwin
Crew — Craft Service: Carole French
Crew — Craft Service: Elena Moscatt
Crew — Craft Service: Reva Grantham
Crew — Driver: Richard Curry
Crew — Legal Services: Marc Diener
Crew — Legal Services: Warren Holcomb
Crew — Loader: Thomas Greco
Crew — Post Production Assistant: Glynn Williams
Crew — Post Production Assistant: Pamela Susan Hall
Crew — Post-Production Manager: Lucy Darwin
Crew — Property Master: Doug Harlocker
Crew — Propmaker: Rick Gamez
Crew — Public Relations: Dennis Davidson
Crew — Pyrotechnician: Ken Tarallo
Crew — Scenic Artist: Silvija L. Moess
Crew — Security: Avi Korein
Crew — Set Medic: Ted Criswell
Crew — Special Effects: Beecher Tomlinson
Crew — Special Effects: David Acord
Crew — Special Effects: James Healy
Crew — Special Effects: Joseph P. Mercurio
Crew — Special Effects: Paul Kocar
Crew — Special Effects: Russell Hardee
Crew — Special Effects: Russell Hurlburt
Crew — Special Effects: Thomas Lockey
Crew — Special Effects Coordinator: Shirley Montefusco
Crew — Stunt Coordinator: Steve Martin
Crew — Stunts: Bill Anagnos
Crew — Stunts: Brian Smyj
Crew — Stunts: Chuck Jeffreys
Crew — Stunts: David S. Lomax
Crew — Stunts: Douglas Crosby
Crew — Stunts: E.J. Evans
Crew — Stunts: Elliot Santiago
Crew — Stunts: G.A. Aguilar
Crew — Stunts: John Copeman
Crew — Stunts: Paul Couch
Crew — Stunts: Ronald O. Jaynes
Crew — Stunts: Sandy Alexander
Crew — Stunts: Steve Martin
Crew — Stunts: Steve Santosusso
Crew — Stunts: Terry Jackson
Crew — Unit Publicist: Ernie Malik
Crew — Video Assist Operator: Ian Kelly
Directing — Director: Terry Gilliam
Directing — First Assistant Director: Mark Egerton
Directing — Script Supervisor: Marilyn Bailey
Directing — Second Assistant Director: Andrew Bernstein
Editing — Color Timer: Eddie Wilder
Editing — Editor: Mick Audsley
Editing — First Assistant Editor: Brian Ufberg
Editing — First Assistant Editor: Dan Gane
Editing — Negative Cutter: Trevor Collins
Lighting — Chief Lighting Technician: Chuck Finch
Lighting — Electrician: Andrew Reed Conner
Lighting — Electrician: Bill Fiedler
Lighting — Electrician: David Cecil
Lighting — Electrician: Keith Salkowski
Lighting — Rigging Gaffer: Craig Ligget
Lighting — Rigging Grip: Matt Miller
Lighting — Rigging Grip: Mike Finnegan
Production — Assistant Production Manager: Charles Miller
Production — Associate Producer: Kelley Smith-Wait
Production — Associate Producer: Mark Egerton
Production — Casting: Margery Simkin
Production — Casting Assistant: Marissa Giunta
Production — Casting Associate: Mikie Heilbrun
Production — Co-Producer: Lloyd Phillips
Production — Executive Producer: Gary Levinsohn
Production — Executive Producer: Robert Cavallo
Production — Executive Producer: Robert Kosberg
Production — Local Casting: Mike Lemon
Production — Location Manager: Scott Elias
Production — Producer: Charles Roven
Production — Production Accountant: Matilde Valera
Production — Production Coordinator: Elizabeth J. Nevin
Production — Unit Production Manager: Lloyd Phillips
Sound — ADR Editor: Budge Tremlett
Sound — Apprentice Sound Editor: Tasha Pym
Sound — Assistant Sound Editor: Simon Cozens
Sound — Boom Operator: Randy Smith
Sound — Foley: Diane Greaves
Sound — Foley: Jack Stew
Sound — Foley: Jason Swanscott
Sound — Foley: Ted Swanscott
Sound — Foley Editor: Ian Wilson
Sound — Musician: Mark Berrow
Sound — Original Music Composer: Paul Buckmaster
Sound — Sound Editor: Imogen Pollard
Sound — Sound mixer: Jay Meagher
Sound — Supervising Sound Editor: Peter Joly
Visual Effects — Digital Compositors: Chris Panton
Visual Effects — Digital Compositors: Doug Forrest
Visual Effects — Digital Compositors: Martin Body
Visual Effects — Digital Compositors: Richard Bain
Visual Effects — Digital Compositors: Steve Cutmore
Visual Effects — Special Effects Supervisor: Anthony Simonaitis
Visual Effects — Visual Effects Coordinator: Susi Roper
Visual Effects — Visual Effects Supervisor: Kent Houston
Writing — Screenplay: David Webb Peoples
Writing — Screenplay: Janet Peoples