Information On The Film Passengers
All about the movie Passengers. Get information on the motion picture Passengers including; genre, directors, producers, stars, supporting actors, ratings, studios and more at IconMovies.net.
Passengers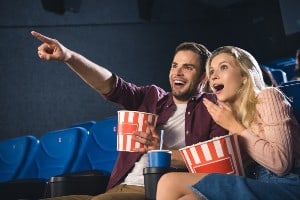 Passengers Film Information
What's The Movie Passengers About?
A spacecraft traveling to a distant colony planet and transporting thousands of people has a malfunction in its sleep chambers. As a result, two passengers are awakened 90 years early.
There is a reason they woke up.
What's The Genre Of The Passengers Movie?
Genres: Adventure, Drama, Romance, Science Fiction
Who Stars In The Passengers Movie?
When Was The Motion Picture Passengers Released?
Released: December 21, 2016
What's The Runtime Of The Passengers Movie?
How Popular Is The Passengers Movie?
Popularity Rating: 20.304
What Studio(s) Produced The Passengers Film?
Who Was On The Cast Of The Motion Picture Passengers?
Who Was On The Crew Of Passengers The Movie?
Art — Art Department Coordinator: Sara Ghaffar
Art — Art Direction: Gregory S. Hooper
Art — Art Direction: John Collins
Art — Art Direction: Kevin Constant
Art — Art Direction: Luke Freeborn
Art — Art Direction: Michael H. Ward
Art — Assistant Art Director: Brittany Hites
Art — Assistant Art Director: Gary Warshaw
Art — Assistant Art Director: Paula Loos
Art — Construction Coordinator: Robert A. Blackburn
Art — Production Design: Guy Hendrix Dyas
Art — Set Decoration: Gene Serdena
Camera — Camera Operator: Al Pavoni
Camera — Director of Photography: Rodrigo Prieto
Camera — First Assistant Camera: Alessandro Di Meo
Camera — First Assistant Camera: Zoran Veselic
Costume & Make-Up — Assistant Costume Designer: Alli Yatto
Costume & Make-Up — Costume Design: Jany Temime
Costume & Make-Up — Costume Supervisor: James W. Tyson
Costume & Make-Up — Hair Department Head: Cydney Cornell
Costume & Make-Up — Hair Designer: Cydney Cornell
Costume & Make-Up — Hairstylist: Mary L. Mastro
Costume & Make-Up — Makeup Artist: Amanda Bianchi
Costume & Make-Up — Makeup Artist: Evelyne Noraz
Costume & Make-Up — Makeup Artist: Gigi Collins
Costume & Make-Up — Makeup Department Head: Vivian Baker
Costume & Make-Up — Set Costumer: Ashley Marie Parker
Costume & Make-Up — Set Costumer: Hilary Smiley
Costume & Make-Up — Set Costumer: Melanie Mascioli
Costume & Make-Up — Set Costumer: Scott R. Hankins
Crew — CG Supervisor: Audrey Ferrara
Crew — CG Supervisor: Gourdal Sebastien
Crew — Stunts: Spencer Stone
Crew — Visual Effects Editor: James Mann
Crew — Visual Effects Editor: Mike Fay
Directing — Director: Morten Tyldum
Directing — Script Supervisor: Ana Maria Quintana
Editing — Dialogue Editor: Hugo Weng
Editing — Digital Intermediate: Alex Portin
Editing — Editor: Maryann Brandon
Editing — First Assistant Editor: Kerry Joseph Blackman
Lighting — Gaffer: Rafael E. Sanchez
Lighting — Rigging Gaffer: Mike Tyson
Lighting — Rigging Gaffer: Scott Graves
Production — Casting: Francine Maisler
Production — Casting Associate: Kate Evans
Production — Co-Producer: Greg Baxter
Production — Executive Producer: Ben Browning
Production — Executive Producer: Ben Waisbren
Production — Executive Producer: Bruce Berman
Production — Executive Producer: David B. Householter
Production — Executive Producer: Greg Basser
Production — Executive Producer: Jon Spaihts
Production — Executive Producer: Lynwood Spinks
Production — Producer: Michael Maher
Production — Producer: Neal H. Moritz
Production — Producer: Ori Marmur
Production — Producer: Stephen Hamel
Sound — ADR & Dubbing: R.J. Kizer
Sound — Foley: Christopher Flick
Sound — Foley: Sarah Monat
Sound — Music Editor: Bill Bernstein
Sound — Music Editor: John Finklea
Sound — Music Editor: Maarten Hofmeijer
Sound — Original Music Composer: Thomas Newman
Sound — Sound Designer: Lee Gilmore
Sound — Sound Designer: Phil Barrie
Sound — Sound Effects Editor: Chris Terhune
Sound — Sound Effects Editor: J.M. Davey
Sound — Sound Re-Recording Mixer: Kevin O'Connell
Sound — Sound Re-Recording Mixer: Will Files
Sound — Supervising Sound Editor: Will Files
Visual Effects — Animation Supervisor: Gabriele Zucchelli
Visual Effects — Special Effects Supervisor: Daniel Sudick
Visual Effects — VFX Supervisor: Alex Guri
Visual Effects — Visual Effects Producer: Greg Baxter
Visual Effects — Visual Effects Supervisor: Erik Nordby
Visual Effects — Visual Effects Supervisor: Pete Dionne
Writing — Writer: Jon Spaihts